Constellations, Murals & Mythology: Exploring the Lonsdale Archive Collection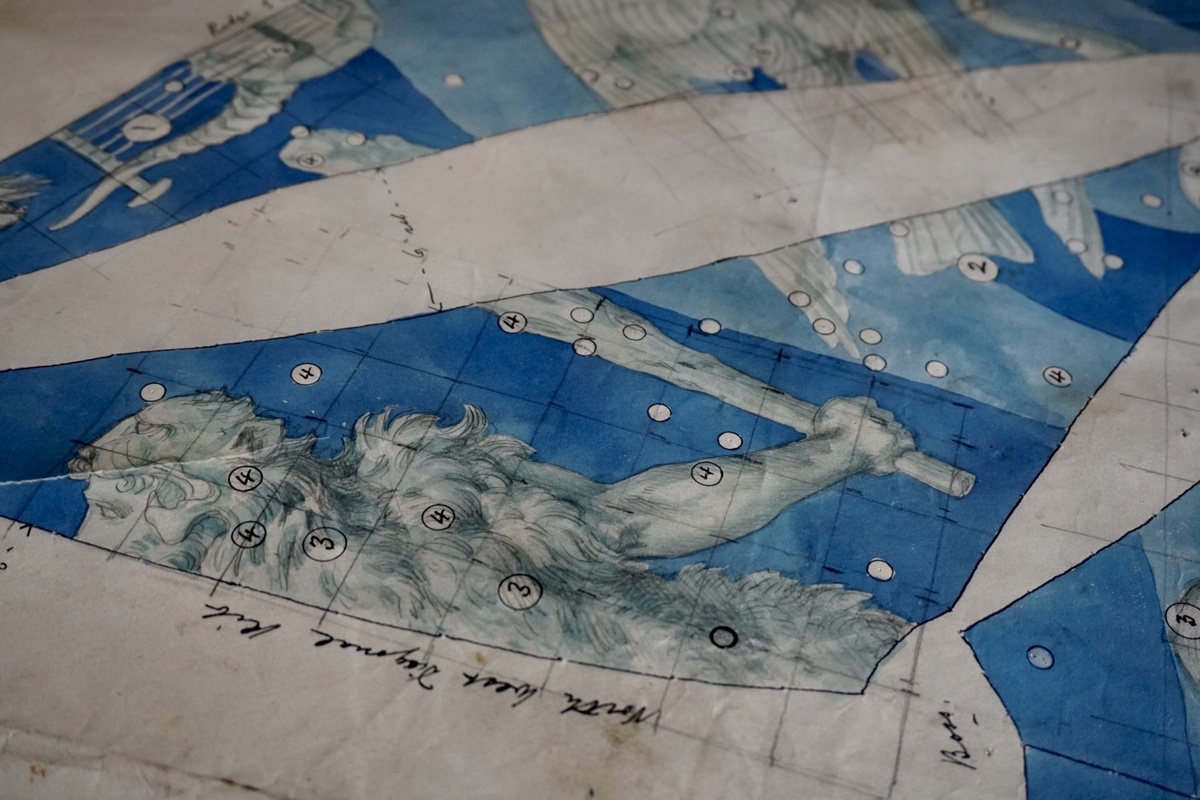 This Summer, Mount Stuart Trust was delighted to host three wonderful students from the University of Dundee's School of Humanities who came to undertake an archive cataloguing internship with the Bute Collection at Mount Stuart. Read on to find out how Abbie found her time cataloguing the Horatio Walter Lonsdale Archive Collection, and stay tuned for two more blogs detailing Valerie and Connie's experiences cataloguing the Bute Collection's Archive.
Mount Stuart is a neo-gothic mansion located on the Isle of Bute. Among the first of the properties in Great Britain to have an indoor heated pool and electric elevator, its architecture is as historically significant as it is visually stunning. The Marble Hall alone boasts over 20 types of marble, varying in colours and patterns – including fossilised slabs around 250-300 million years old. Situated within expansive landscaped gardens and surrounded by shorelines and coastal walks, there was plenty to explore during our two-week archival internship.
As the ancestral home of the Marquesses of Bute, Mount Stuart houses an assortment of valuable material. The Libraries of the Bute Collection contains an impressive array of wonders, including Shakespeare's First Folio, books inscribed with Queen Victoria's signature, and the poetry of Robert Burns annotated by the author himself. The Archive of the Bute Collection presents equally rich opportunities, as we explored collections tailored to our interests. From family correspondence and recipes to architectural plans and receipts, around half of Mount Stuart's archival material remains uncatalogued.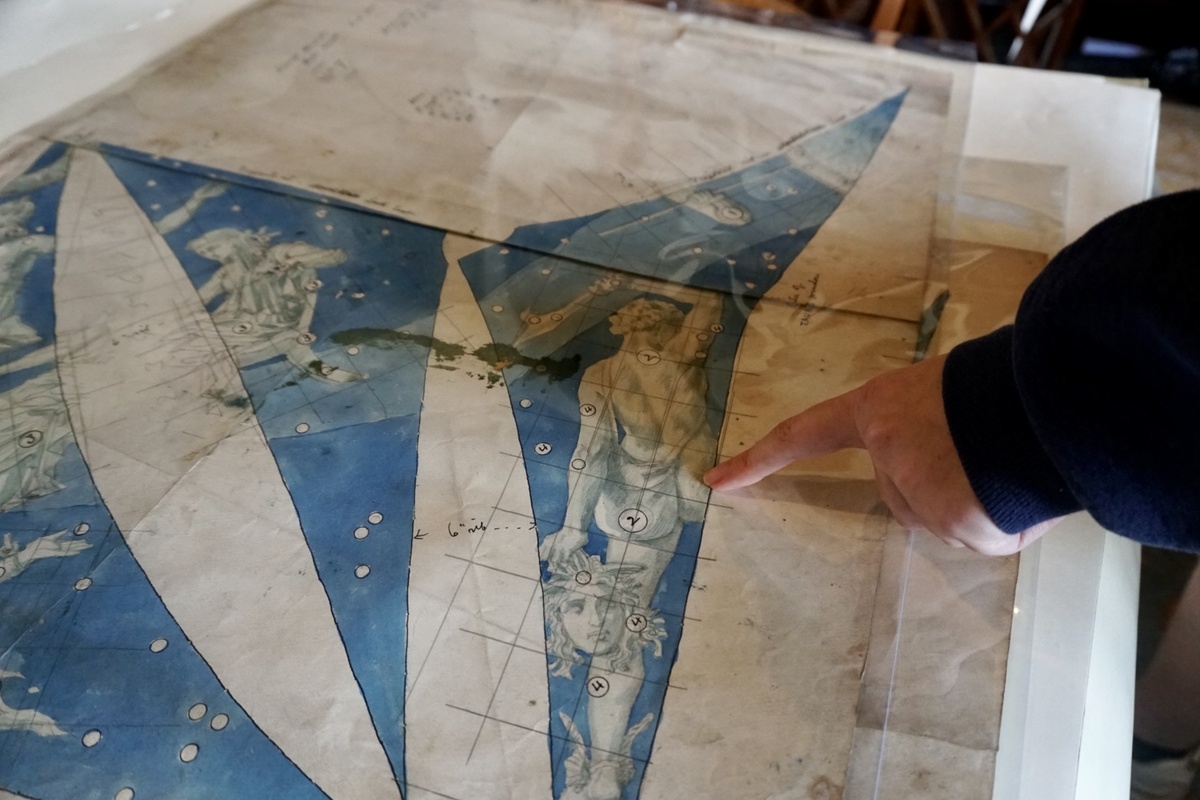 The Horatio Walter Lonsdale Archive Collection spans the years c.1886-1897. The material prominently relates to architectural features of Mount Stuart, as Lonsdale designed a clerestory of stained glass, murals, and heraldic panels for the 3rd Marquess of Bute. The collection includes a subseries dedicated to other properties, such as the Church of the Greyfriars in Elgin and Garrison House, Isle of Great Cumbrae. During the internship, I had the pleasure of cataloguing virtually all material relating to Mount Stuart. This encompassed around 200 items, spread across nearly 50 files.
Lonsdale was born in Mexico in 1844. He attended the Royal Academy School of Architecture at the age of 21, where he studied with great success. In addition to winning the Royal Academy Travelling Studentship in c.1871, Lonsdale's apprenticeship under architect William Burges brought him fruitful opportunities; he completed a stained-glass project for Waltham Abbey as early as 1868. Lonsdale continued to work closely alongside Burges throughout his career, as his speciality in embellished architecture developed. His work became centred around features such as ornate stained glass, murals, fireplaces, and tiling. External to Mount Stuart, Lonsdale's notable contributions include the interior decoration of Cardiff Castle (1869-1880's), Castell Coch (1872-1890), Tower House (1875-1878), Falkland Palace (1889), and St. John's Lodge in Regent's Park, London (1889).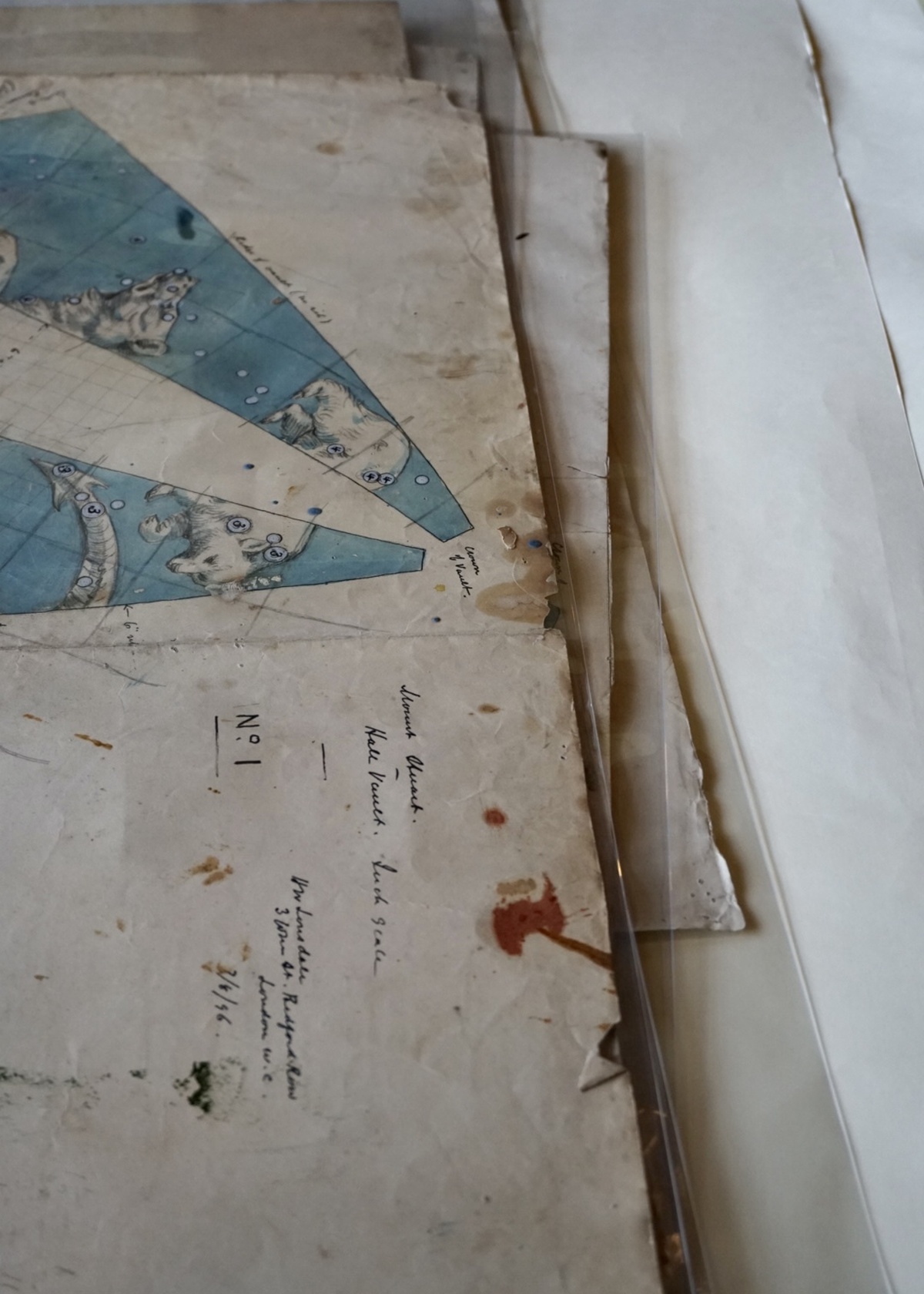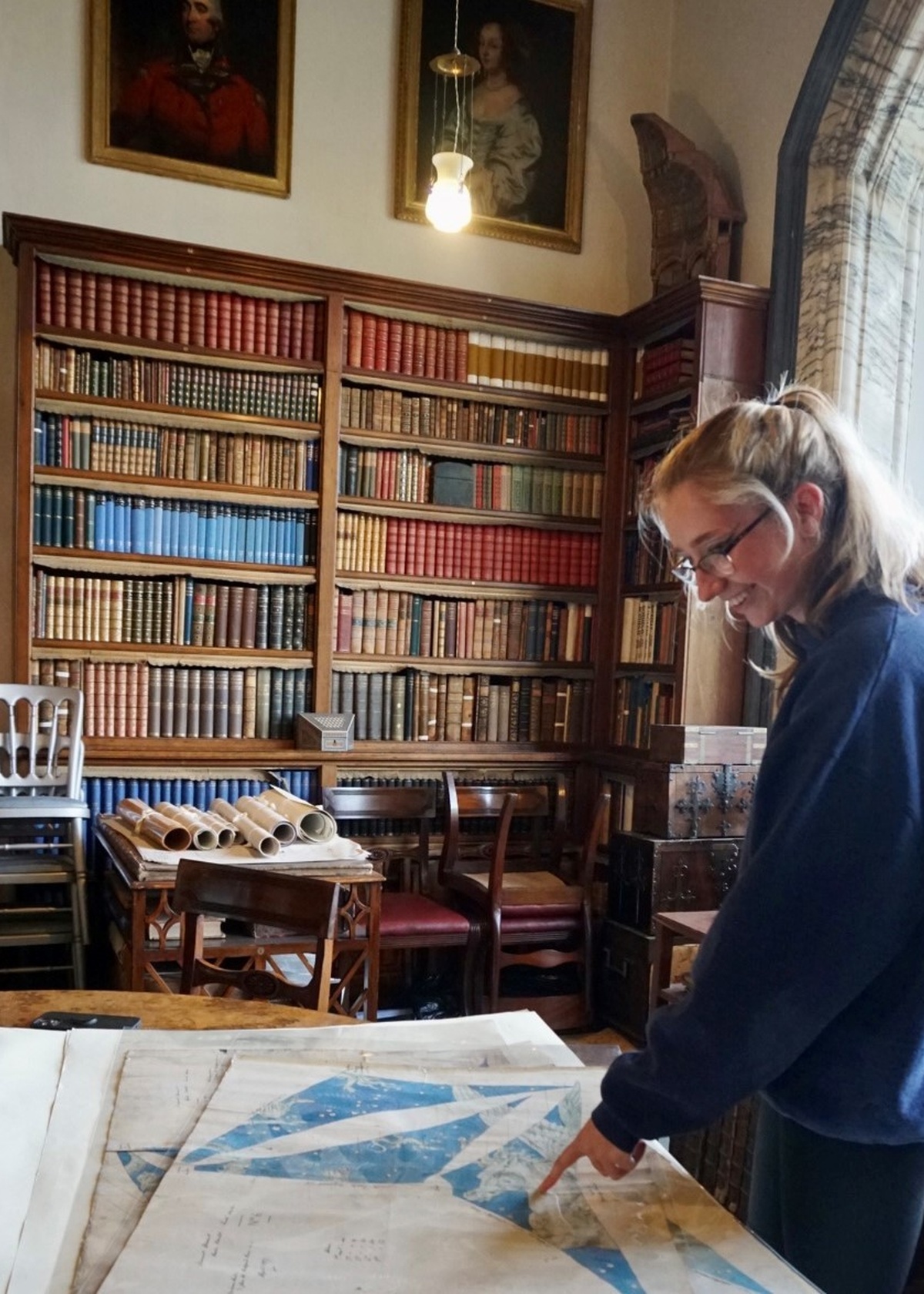 Each collection is organised according to an individual hierarchy. The guidance of archivist Lynsey Nairn was instrumental in learning this process. Lonsdale's designs are divided into two principal series - watercolours and full-scale cartoons - whilst file type was allocated according to room. Plans for stained glass and other architectural features were itemised for libraries, bedrooms, corridors, entrance halls, drawing rooms, and my personal favourite: the Marble Hall.
The hall functions as the metaphorical heart of Mount Stuart. The space is given suitable prominence by Lonsdale, whose magnificent designs intertwine Greek mythology and astrology. Lonsdale's Zodiac-inspired stained glass is particularly stunning. The panels are skilfully arranged to emulate the different seasons; Spring is represented by emerald greens, Summer by fiery reds and oranges, whilst deep purples and blues signify Autumn and Winter.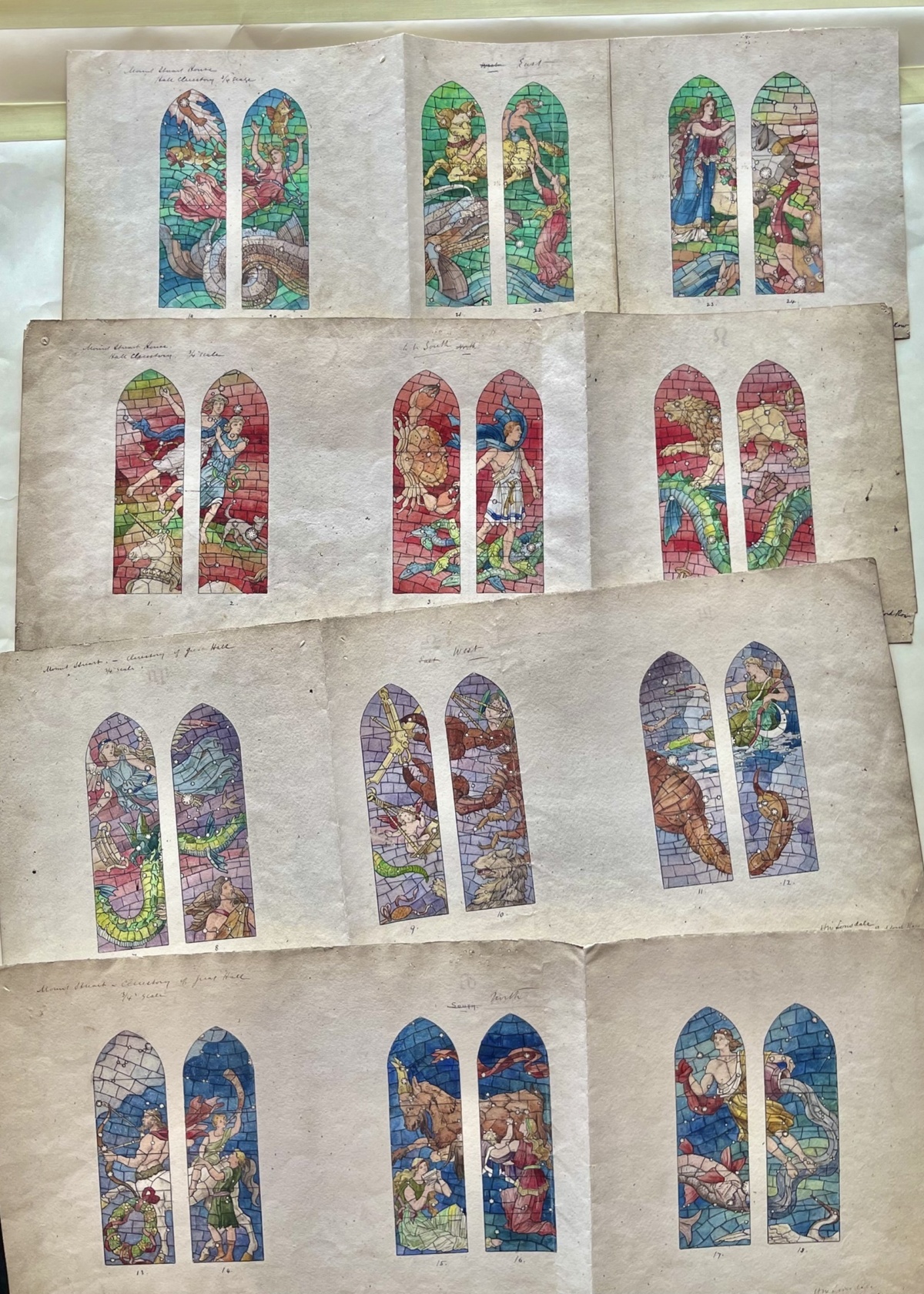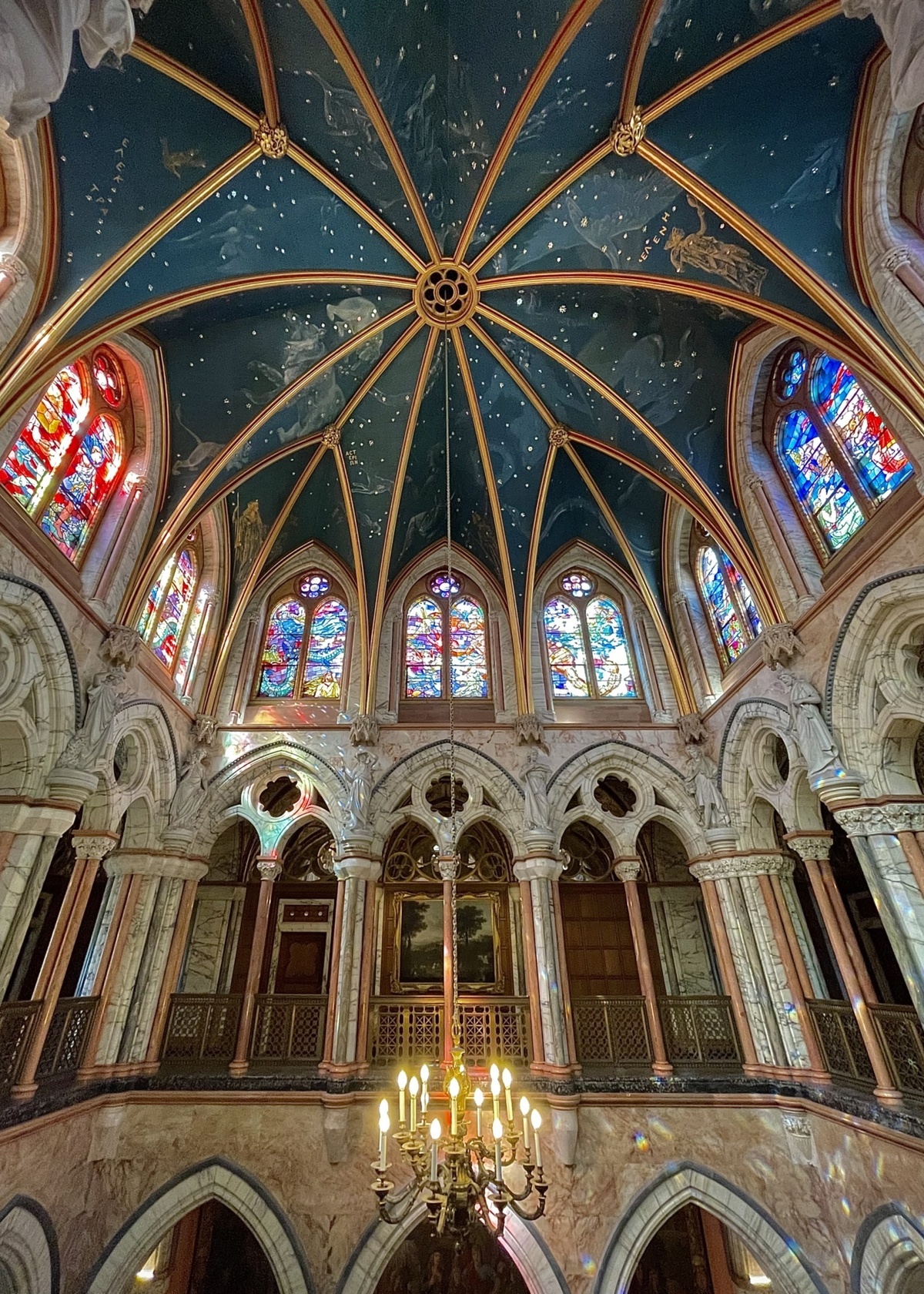 I was amazed to note the vibrancy of the watercolour in designs that are over 130 years old; even modern paints tend to appear washed-out in comparison. The vivid pigment was especially visible on the full-scale cartoons. Unrolling and re-rolling these metre-long documents proved quite a challenge, however, with some of the more fragile papers subject to rips or fraying. We were lucky enough to view the windows at a different perspective from the rooftop – watching the kaleidoscope of colours reflect on the marble pillars below was spectacular.
I was equally fascinated and shocked to discover that the construction of the 24 glass panes cost under £700 – equating to roughly £50,000 in today's currency [according to the inflation calculator via the Bank of England]. This appears vastly under-priced when considering the magnitude of details, colours and subjects required in each individual pane. Stained-glass, however, was effectively mass-produced for churches during the 19th century; a modern replica set would doubtless exceed hundreds of thousands due to the specialised craftsmanship and materials required.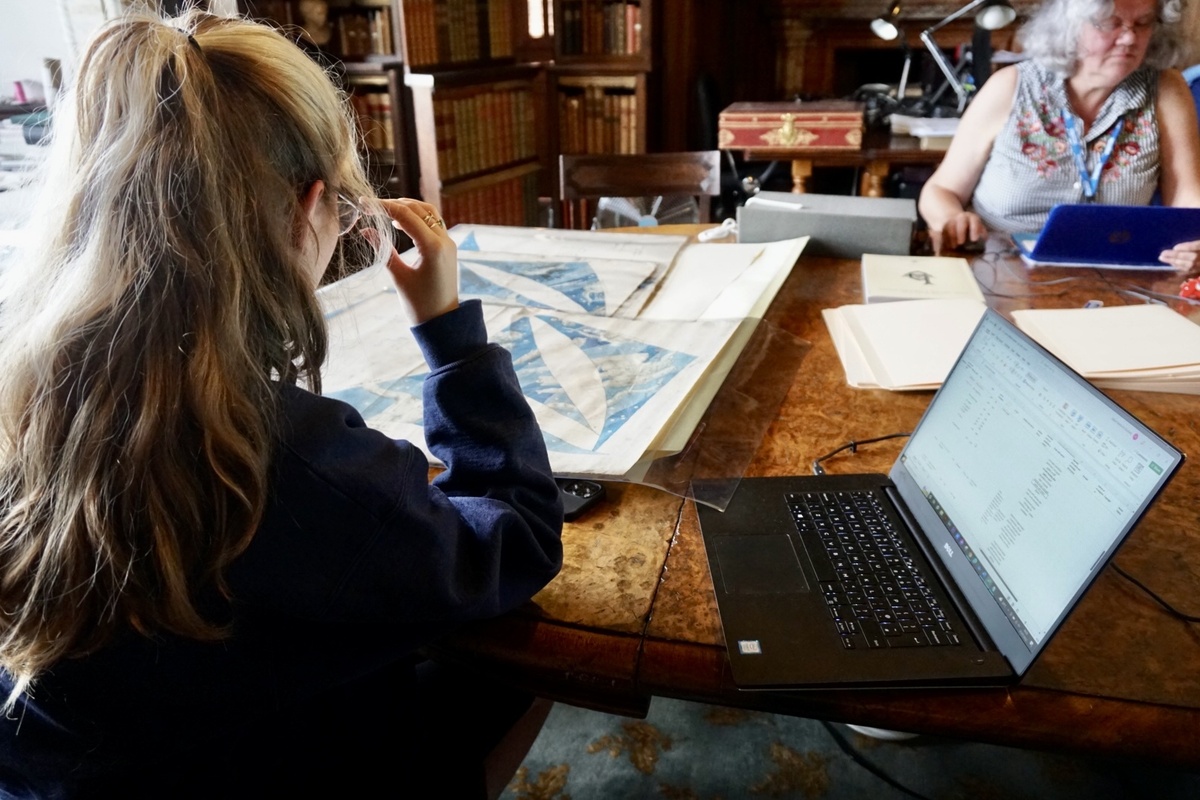 My favourite designs of all, however, were that of the hall's Vaulted Ceiling. Deciphering and triangulating the pages of constellations was simultaneously challenging and exciting. Some configurations were more apparent than others, such as Ursa Major and Minor or Canes Venatici. Design No.3 presented the greatest challenge. Whilst I quickly identified Serpentarius and Corona Borealis, the figure touching the Borealis was not immediately recognisable; the intricate small-scale designs can obscure distinguishing details of the Gods and Goddesses.
Eventually, I realised the key was hidden at the tip of his staff – a tiny pinecone. This was revealed to be a feature of Dionysus, the Greek God of fertility. The most spectacular page depicted several notable Greek figures, including King Cepheus and Cassiopeia, who is reaching for her shackled daughter Gloria Frederici. The figure of Perseus is most captivating of all, triumphantly wielding Caput Medusae - the slain head of Medusa.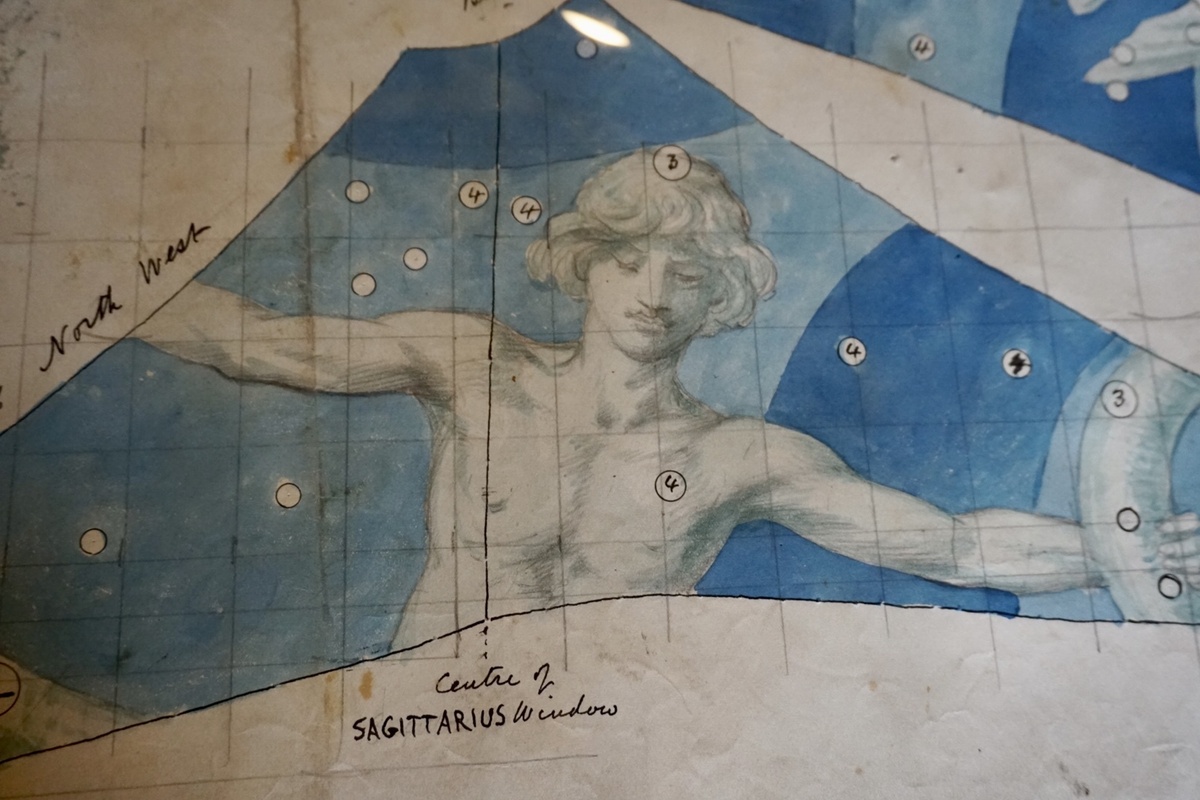 The collaborative nature of the placement was further enriching. Whether aiding in transcriptions or contributing opinions, there was fun to be had in exploring each other's collections and discoveries. As a language graduate, I enjoyed reading letters in French from Valerie, who worked on papers regarding the Marchionesses of Bute - though deciphering the handwriting often proved more difficult than the translation.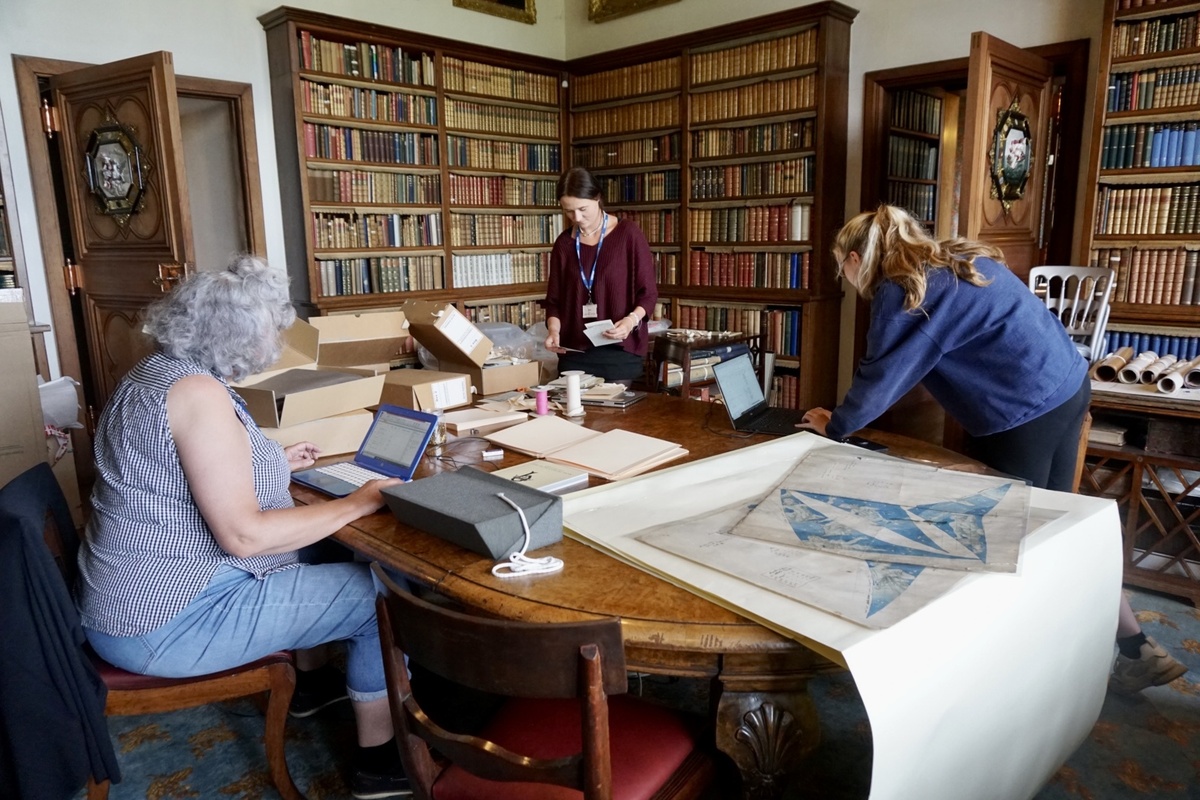 This placement truly exceeded my expectations. I would strongly encourage anyone considering the internship to apply. You will gain invaluable first-hand experience in both the archival and heritage sector, supported by Lynsey Nairn and Elizabeth Ingham, whose enthusiasm for collections is infectious. Beyond the archives, an island awaits exploration; during our stay we visited standing stones, castle ruins, and frequented the local restaurants. A gorgeous wedding firework display served as an unforgettable finale to our incredible two weeks at Mount Stuart.