Shakespeare First Folio
We are proud to take care of one of the Bard's First Folio's in the Bute Collection at Mount Stuart.
The Shakespeare First Folio contains 36 plays, half of which were published in 1623 for the first time. If the First Folio had not been printed, significant plays, such as The Tempest and Macbeth, would have been lost to history. About 750 copies of the First Folio were printed, and 235 are known to have survived, with around 50 copies still in the UK today.
Printing Shakespeare
John Heminges and Henry Condell worked with William Shakespeare in the King's Men as actors and company shareholders, and they had exceptional access to the theatre company's collection of manuscripts. Heminges and Condell despaired at how Shakespeare's plays had been 'abused', 'stolen' and 'deformed' in previously printed quarto editions, and aimed to create a printed memorial of Shakespeare as a playwright. Printing the First Folio was a hugely ambitious project. Printing large folio books was an expensive and risky enterprise, only reserved for authors of serious literature, often after their death. In 1623, Heminges and Condell formed a consortium with bookseller Edward Blount, and the father and son printing team of William and Isaac Jaggard to produce the collected edition of Shakespeare's plays to great acclaim.
Heminges and Condell divided the plays into comedies, histories, and tragedies, an editorial decision that has come to shape our idea of the Shakespearean canon. The Bute First Folio is split into three volumes - matching this editorial choice - and it has been physically bound this way since it was owned by another Shakespearean editor, Isaac Reed. Reed was given this copy of the First Folio by the widow of the Shakespearean actor, John Henderson, on 3rd February 1786, and owned it until his death in 1807. The First Folio is dedicated to "the most noble and incomparable pair" of William, 3rd Earl of Pembroke, and his younger brother, Philip, 4th Earl of Pembroke: ancestors of the Crichton Stuart family. Without their support, this book would not have been printed.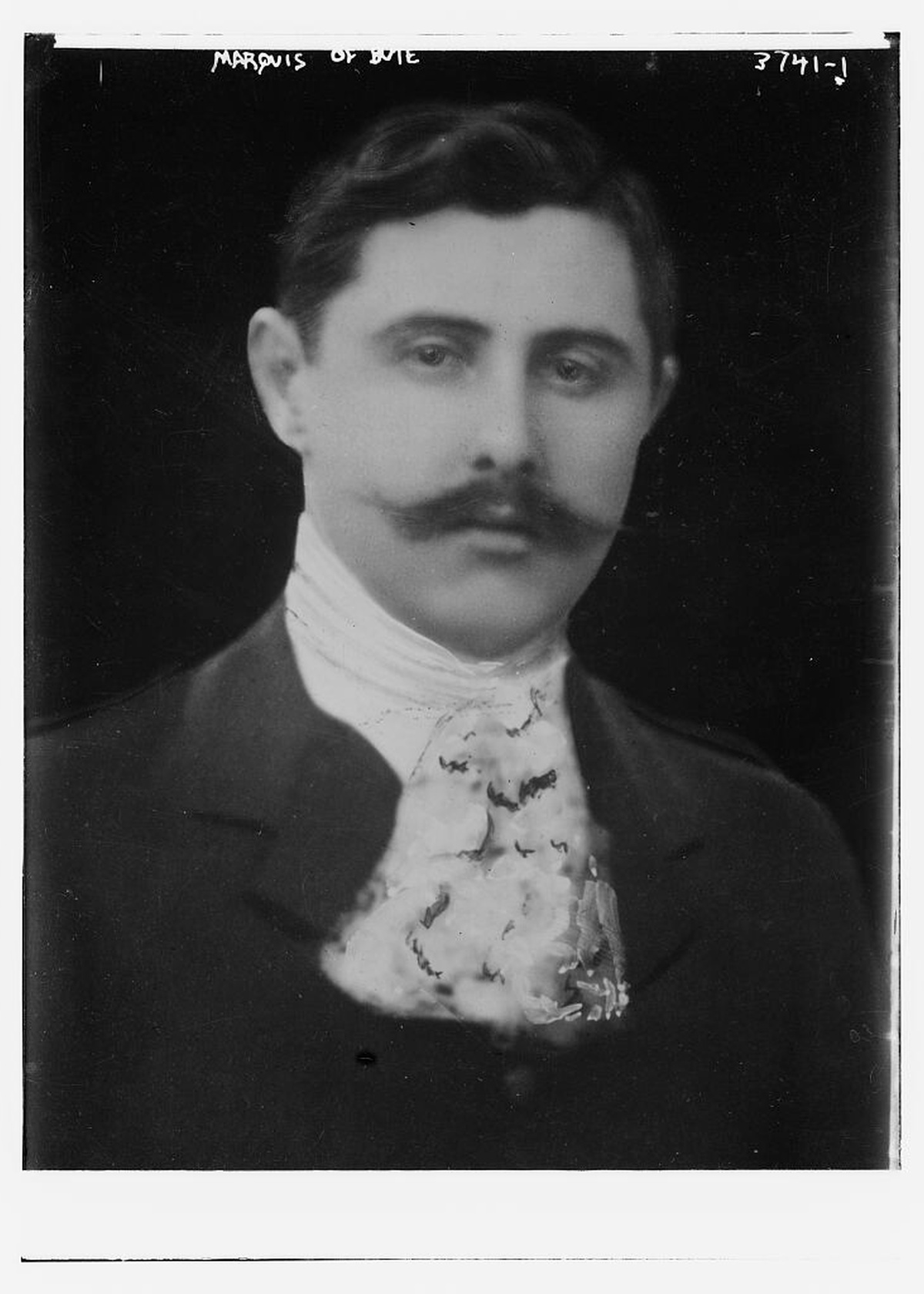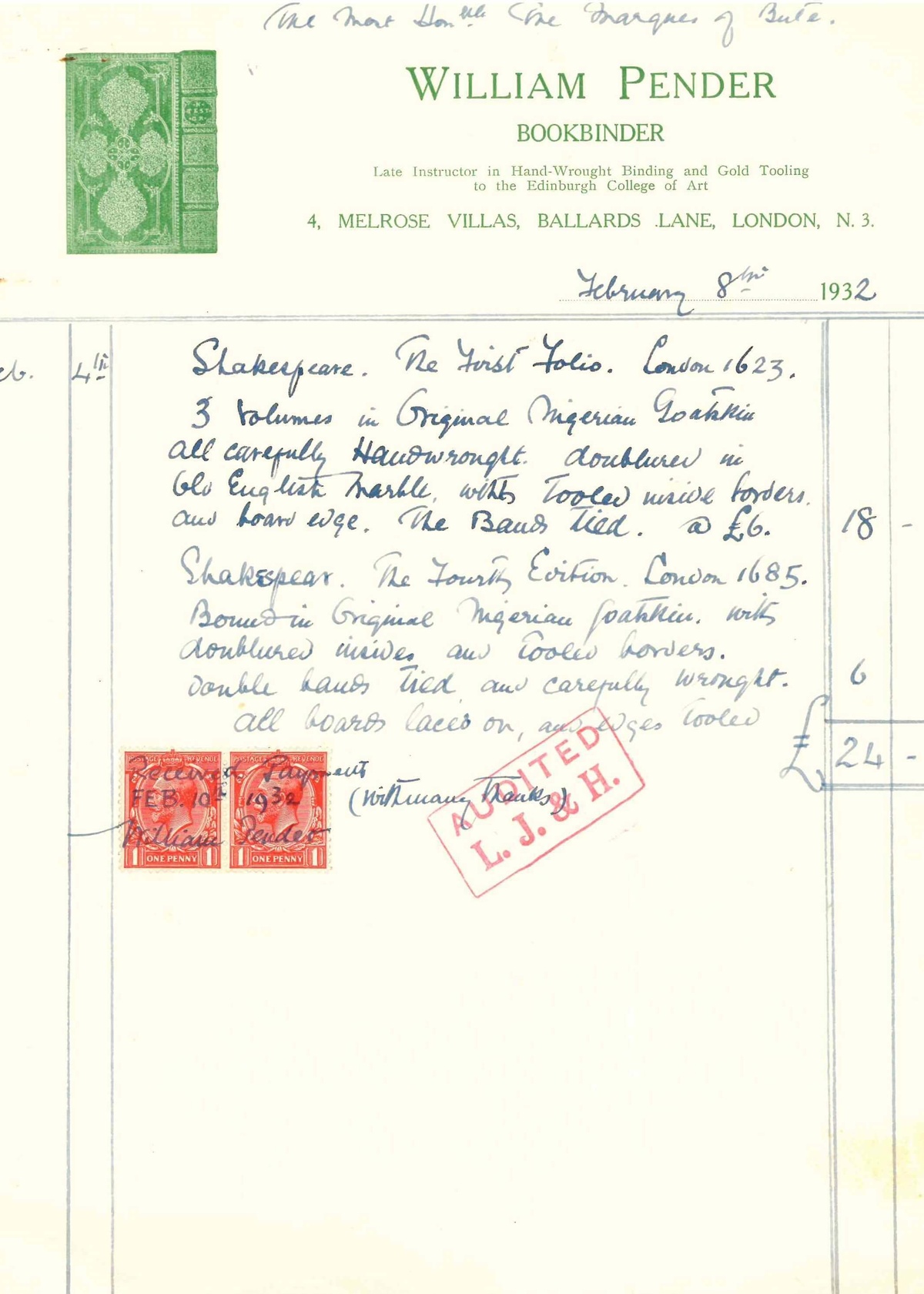 The Binder and The Bibliophile
By 1896, the Bute First Folio formed part of the Third Marquess of Bute's library at St John's Lodge in Regent's Park, London, which was inherited by his son, the Fourth Marquess of Bute, in 1900. The Fourth Marquess was a keen bibliophile, who regularly acquired rare and important books and manuscripts to join his 64,000-strong book collection, split between the nine libraries in his homes. A passionate advocate of craftsmanship, the Fourth Marquess decided to commission a fresh Arts and Crafts-style binding for the three volumes of the Bute First Folio. He instructed his Librarian, W.J. Stanley, that the fine bookbinder William Pender should undertake this work. Pender had taught bookbinding and leather work at the Edinburgh College of Art between 1910-1918, and exhibited his bindings at exhibitions in Dublin and London.
In November 1931, the Bute First Folio was sent to Pender's London bindery. Pender and his wife completed their work on 4th February 1932, charging the Fourth Marquess £18. Once bound, the Bute First Folio was sent to be catalogued by Librarian, Olivia Littledale, in the Bute library at 39 Belgrave Square in London. On the outbreak of the Second World War, the Fourth Marquess' books in London were moved to Scotland for their care and safety, and the Bute First Folio was relocated to the Blue Library at Mount Stuart. The Bute First Folio has continued to be cared for in the Bute Collection at Mount Stuart ever since.

2023 is the 400th Birthday of The First Folio, the first printed edition of William Shakespeare's collected plays. As part of the UK and Ireland Folio400 celebrations, three copies in Scottish collections will go on public display throughout 2023 - including the Bute Collection at Mount Stuart's First Folio. Find out more here: https://www.mountstuart.com/ne...

The Folio is available to view by special appointment. Contact us for further information.