TWOFOLD: Emerging Artist Residency Opening Ceremony
Saturday 28th January 2023
13:00-15:00
Bute Community Forest
Championing the place of Queer people within rural landscapes
On 28th January 2023 Maya Rose Edwards will complete their Emerging Artist Residency with the installation of the Milestone Circle in the Bute Community Forest. Throughout November last year Maya met with local residents from the LGBTQ+ communities to explore their relationship to the island. Their stories, words and memories fed directly into the resulting artwork which celebrates literal and metaphoric milestones in the lives of local LGBTQ+ people.
Throughout the residency, Maya has created a series of works and interventions as well as becoming a familiar face around Rothesay and charming everyone she meets. TWOFOLD is the title of their overarching project which has included placing and photographing the TWOFOLD Tie, making smit mark drawings on felted sheep fleeces, drawing into moss on trees, carving a stunningly beautiful double-headed Wayfinding Crook, creating an ID tag and poem (TRANS(PLANT) in response to a remarkable tree.
For the Milestone Circle installation there will be a newly written song by islander Kenzie Mack and a short talk by John Wilkes of the Scottish Equality & Human Rights Commission. Light refreshments will be provided by food artist Mathilde N'Doye.
This event will be outdoors, please dress accordingly. Some paths may be muddy. For directions to the Bute Community Forest please visit https://www.buteforest.org.uk/
The work will remain installed at Bute Forest for the foreseeable future.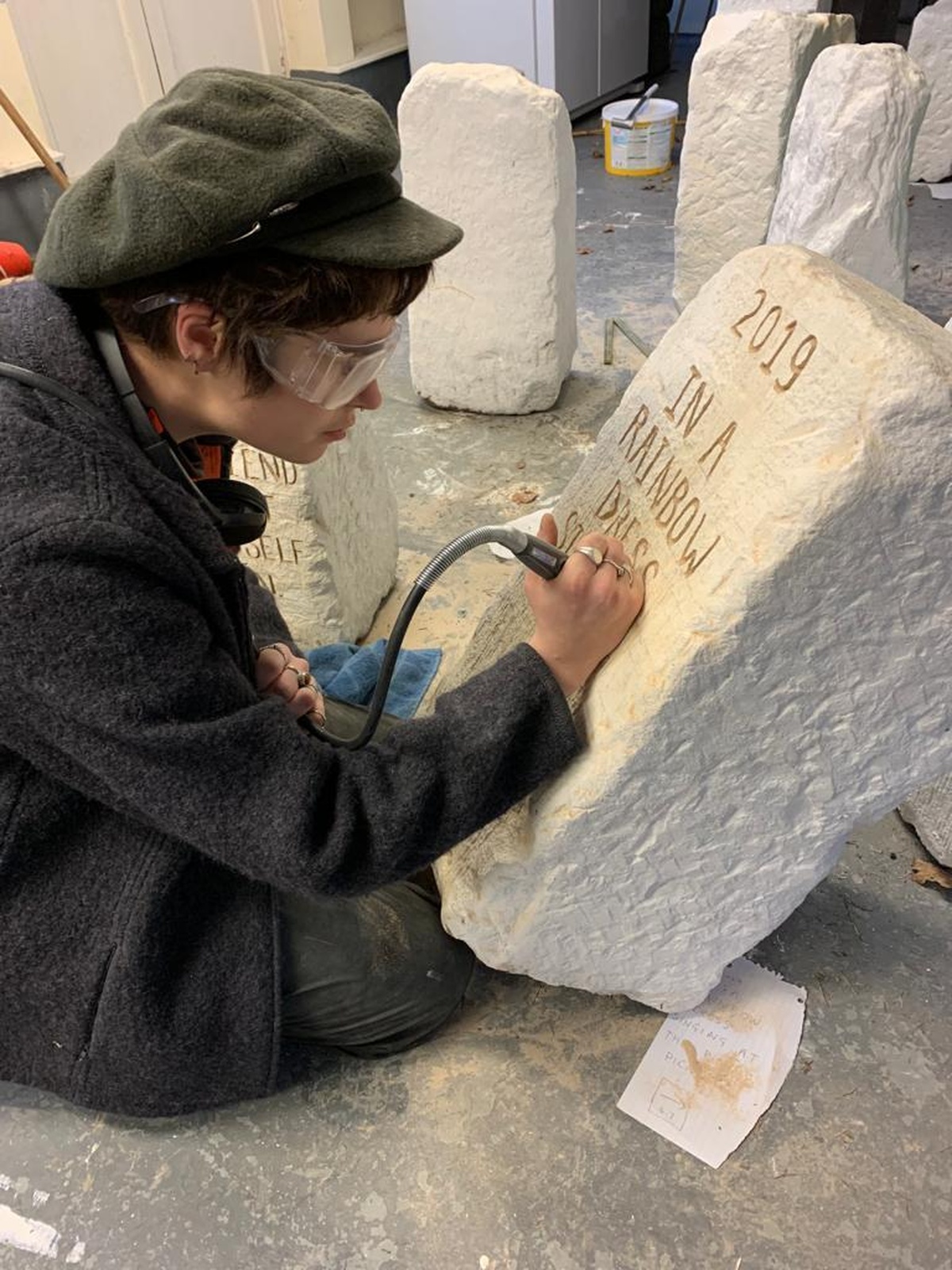 About the Artist
Maya (b. 1999) graduated from Sculpture and Environmental Art at Glasgow School of Art in 2021. They have received a range of accolades including the Origins Creative Arts Festival Best Young Practitioner 2018, an Emergent Artists residency with Culture Collective 2021, being selected for the RSA New Contemporaries 2021 and a Creative Scotland's Youth Arts Bursary 2022.