A powerhouse of creative activity, we host a variety of events and exhibitions throughout the year to pique your curiosity. This wouldn't be possible without the welcoming, nurturing environment we create for artists. Mount Stuart has always been a place of innovation. A place where people have asked 'What if?' We encourage all the artists we work with to do the same.
2023 Programme
We are delighted to share what's to come for our Contemporary Visual Arts Programme in 2023!
Monster Chetwynd
Opening 10 June
Known for her exuberant and fun performative works, featuring handmade costumes, props and sets Monster Chetwynd creates joyful costumes and mise-en-scène which often cross the boundaries onto gallery walls, with costume elements becoming overlays on facsimiles of art historical works. By inviting her into the neo-gothic fantasy of Mount Stuart house, this commission will embrace a playful aesthetic which also provokes serious consideration of the ongoing climate emergency.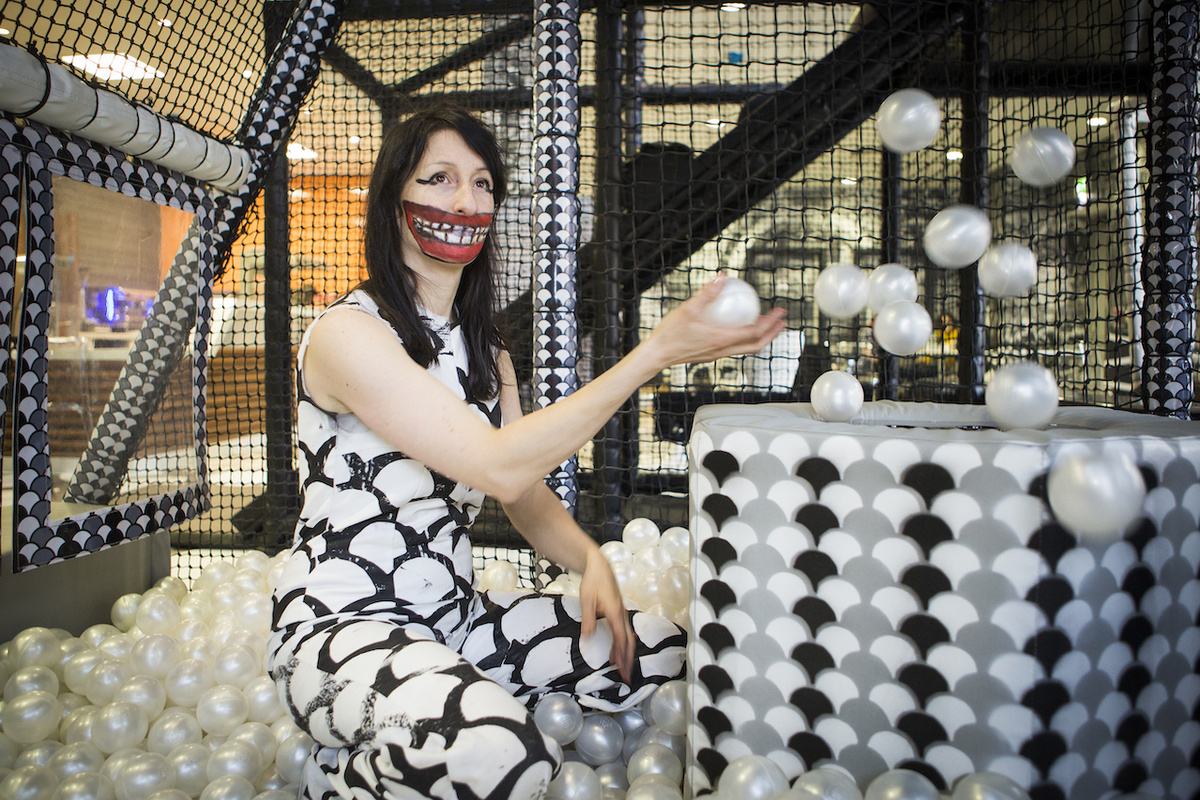 Monster Chetwynd, The Idol, Soft Play Centre, Abbey Sport Centre, London, 2015
Credit: © Monster Chetwynd, courtesy Sadie Coles HQ, London. Photography: Emil Charlaff – Create London.
Sekai Machache: Svikiro
Opening 2 September

Autumn at Mount Stuart will see Sekai Machache develop a project entitled Svikiro, comprising a several short films as the opening chapter of a future series of works. Through performance to camera, still and moving image, she will explore experimental and innovative storytelling using academic, visual and embodied research at Mount Stuart and in its collections and archives. The resulting films will suggest alternative readings of the past and present a model for a decolonised future archive built on collaboration.

To find out more about the exciting projects in store you can read the full press release here.
Emerging Artist Residency 2022

Maya Rose Edwards: TWOFOLD
Maya Rose Edwards was our Emerging Artist in Residence for 2022.
From November 2022 Maya worked in collaboration with young people and local LGBTQ+ communities on Bute to explore ideas surrounding queer identity within a rural/island context.
Maya (b. 1999) graduated from Sculpture and Environmental Art at Glasgow School of Art in 2021. She has received a range of accolades including the Origins Creative Arts Festival Best Young Practitioner 2018, an Emergent Artists residency with Culture Collective 2021, being selected for the RSA New Contemporaries 2021 and a Creative Scotland's Youth Arts Bursary 2022.

Find out more here.
Emerging Artist in Residence 2022 Maya Rose Edwards

Abbas Akhavan: study for a garden
Abbas Akhavan's exhibition, study for a garden, ran 30 April - 9 October 2022 with installations in the Crypt and across our garden and grounds. Akhavan's first exhibition in Scotland his practice of on-site research saw him spending time on Bute throughout the first months of 2022.
Through his work Abbas addresses social, economic and political concerns through the lens of ecology, animal and plant life. The site specific works use natural and ancient materials from the island, interrogating the history of Mount Stuart and its landscape.

To find out more about this exhibition read our press release here.
Following the end of the exhibition, the work you used to call it blue sometimes, a dichroic film installed on the windows of the Kitchen Garden Pavilion and a 21 minute sound work, will remain on view at Mount Stuart.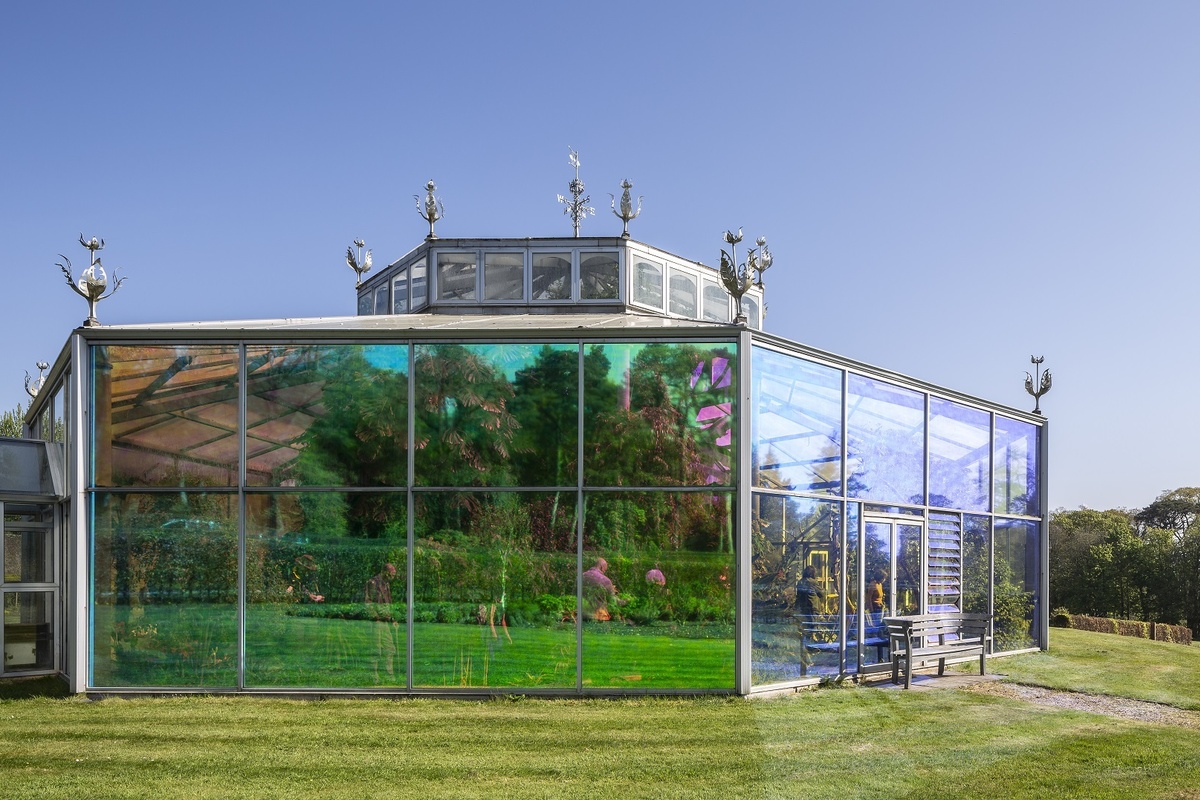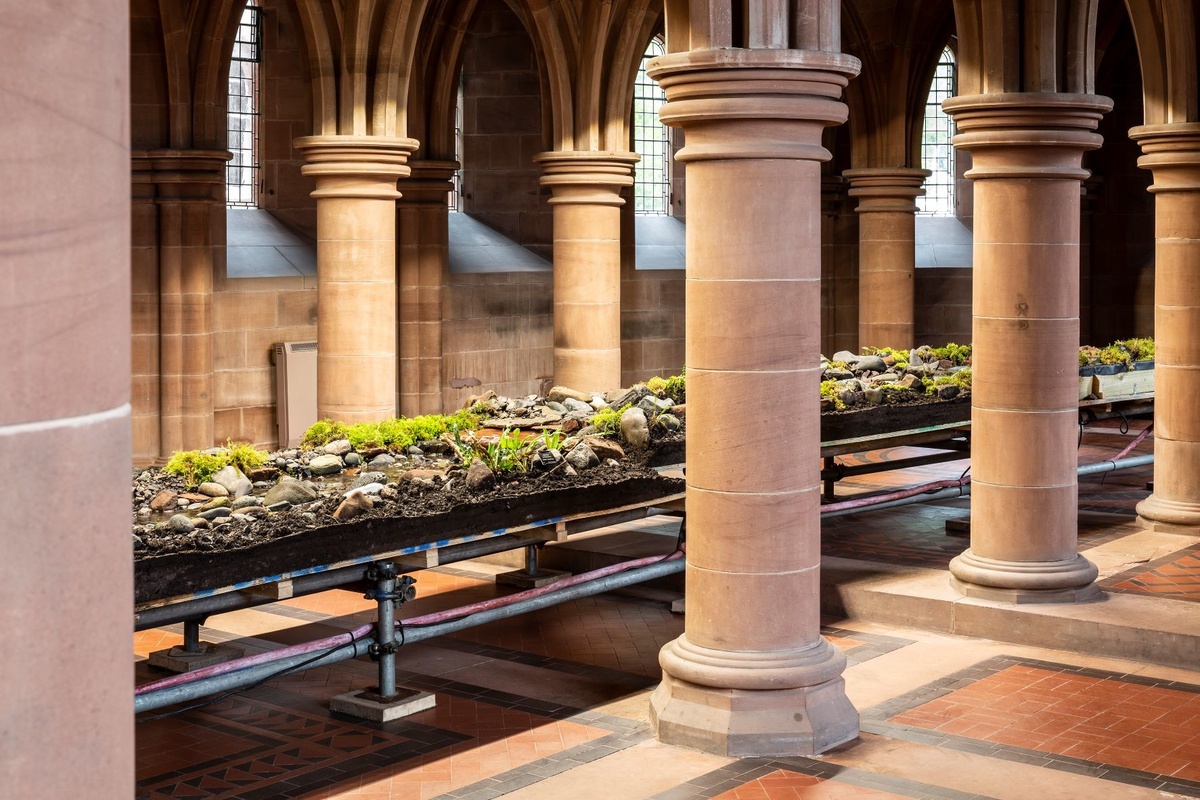 Martin Boyce: An Inn For Phantoms Of The Outside And In

In 2019 we welcomed Martin Boyce to Mount Stuart to create a work inspired by the memory of a tennis court long since dismantled. His installation An Inn For Phantoms Of The Outside And In remains on view in our grounds.
Find out more about Martin's exhibition in our Press Release here.
Martin joined Sophie Crichton Stuart, Director of our Visual Arts Programme, in conversation to discuss his work at Mount Stuart. You can read a transcript of their discussion here.
You can purchase the book accompanying the exhibition here.
Our Visual Arts Programme
We have been working with established artists for 18 years, and earned ourselves an international reputation. We now also work with artists in the early stages of their careers, helping them to find their feet and grow their artistic skills. The result is a diverse range of inspiring exhibitions.
Created in 2001, the Mount Stuart Contemporary Visual Arts Programme presents work by significant Scottish and international artists. The programme invites contemporary artists to bring new perspectives to the extraordinary Neo-Gothic mansion, its collections and location. Complementing each exhibition is a programme of events, publications and educational activities.
Commissioned artists have included; Kate Whiteford, Thomas Joshua Cooper, Christine Borland, Langlands & Bell, Anya Gallaccio, Nathan Coley, Lee Mingwei, Lucy Skaer, Kate Davis, Lorna Macintyre, Steven Claydon and Whitney McVeigh.
We extend our reach beyond Bute through relationships with writers and organisations including; The Common Guild, The Royal Botanic Gardens Edinburgh, GENERATION and The Modern Institute.
Through commissioning artists Mount Stuart Trust aims to add value and vibrancy to the historical context of Mount Stuart and reinvigorate dialogue and enquiry.
Nathan Coley, Camouflage Mosque, 2006
Steven Claydon, A Gathering of Vessels (Introduced Species), 2017
Whitney McVeigh, Way of Life, 2019
Visual Arts Archive
View Here