A powerhouse of creative activity, we host a variety of events and exhibitions throughout the year to pique your curiosity. This wouldn't be possible without the welcoming, nurturing environment we create for artists. Mount Stuart has always been a place of innovation. A place where people have asked 'What if?' We encourage all the artists we work with to do the same.
We are delighted to share what's to come for our Contemporary Visual Arts Programme in 2022. To find out more about the exciting projects in store you can read the full press release here.

study for a garden: Abbas Akhavan
30 April - 2 October 2022
We are delighted to welcome Abbas Akhavan to Mount Stuart in 2022. Abbas addresses social, economic and political concerns through the lens of ecology, animal and plant life. His practice of on-site research will see him spending time on Bute throughout the first months of 2022. This will result in the creation of site specific works using natural and ancient materials from the island. These new works will interrogate the history of Mount Stuart and its landscape. The commission will introduce audiences in Scotland to Abbas Akhavan's work for the first time, his international reputation having been formed in Canada, Germany, USA, UAE, Colombia and Turkey.


To find out more about this exhibition read our press release here.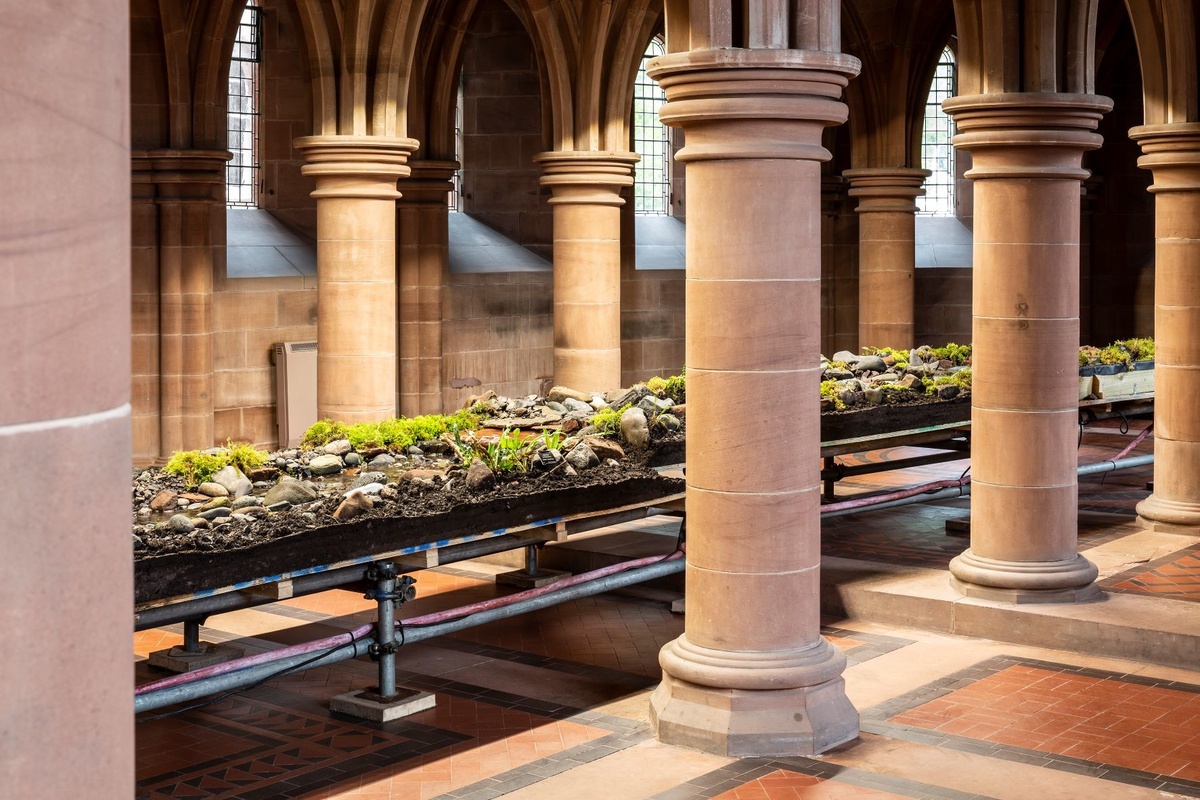 Pacing the Void: Rhona Warwick Paterson and Eve Mutso
Summer 2022
Artist and writer Rhona Warwick Paterson and performer Eve Mutso have been commissioned to create a new piece of live art which will be performed in Mount Stuart's Marble Hall under the magnificent painted ceiling which depicts a star map of the night sky.
Rhona Warwick Paterson is an artist and writer from Glasgow. She was awarded the Scottish Book Trust Prize for Poetry in 2018 and has been appointed the Associate Artist for Gallery of Modern Art (2019-2021) and Research Fellow for Theatrum Mundi, London.
Eve Mutso is a freelance dancer & choreographer and former Principal Dancer of Scottish Ballet. She is currently working at the Estonian Music and Theatre Academy and is preparing a new work with Glasgow based dance company Indepen-dance.
Gather And Arrange: Arrange Whatever Pieces Come Your Way
Continues until Spring 2022

Sheelagh Boyce and Annabelle Harty's project continues with communities and individuals across Bute who have been invited to make their own quilts from their own old and cherished garments. Participating makers will gather used clothes, made special by the person that wore them, the occasion for which they were worn or the patina of wear. These will go on show at Mount Stuart in Spring 2022.
A forthcoming publication, due to be released in April 2022, will capture all aspects of the project and include images by Lynette Garland and an essay by Charlie Porter, fashion journalist and author of What Artists Wear.
Martin Boyce: An Inn For Phantoms Of The Outside And In

In 2019 we welcomed Martin Boyce to Mount Stuart to create a work inspired by the memory of a tennis court long since dismantled. His installation An Inn For Phantoms Of The Outside And In remains on view in our grounds.
Find out more about Martin's exhibition in our Press Release here.
Martin joined Sophie Crichton Stuart, Director of our Visual Arts Programme, in conversation to discuss his work at Mount Stuart. You can read a transcript of their discussion here.
You can purchase the book accompanying the exhibition here.
Our Visual Arts Programme
We have been working with established artists for 18 years, and earned ourselves an international reputation. We now also work with artists in the early stages of their careers, helping them to find their feet and grow their artistic skills. The result is a diverse range of inspiring exhibitions.
Created in 2001, the Mount Stuart Contemporary Visual Arts Programme presents work by significant Scottish and international artists. The programme invites contemporary artists to bring new perspectives to the extraordinary Neo-Gothic mansion, its collections and location. Complementing each exhibition is a programme of events, publications and educational activities.
Commissioned artists have included; Kate Whiteford, Thomas Joshua Cooper, Christine Borland, Langlands & Bell, Anya Gallaccio, Nathan Coley, Lee Mingwei, Lucy Skaer, Kate Davis, Lorna Macintyre, Steven Claydon and Whitney McVeigh.
We extend our reach beyond Bute through relationships with writers and organisations including; The Common Guild, The Royal Botanic Gardens Edinburgh, GENERATION and The Modern Institute.
Through commissioning artists Mount Stuart Trust aims to add value and vibrancy to the historical context of Mount Stuart and reinvigorate dialogue and enquiry.
Nathan Coley, Camouflage Mosque, 2006
Steven Claydon, A Gathering of Vessels (Introduced Species), 2017
Whitney McVeigh, Way of Life, 2019
Visual Arts Archive
View Here