'Doon the Watter' to the Bute Archive at Mount Stuart: Scottish Archives Day 2021
24th February 2021
'Doon the Watter' to the Bute Archive at Mount Stuart: Scottish Archives Day 2021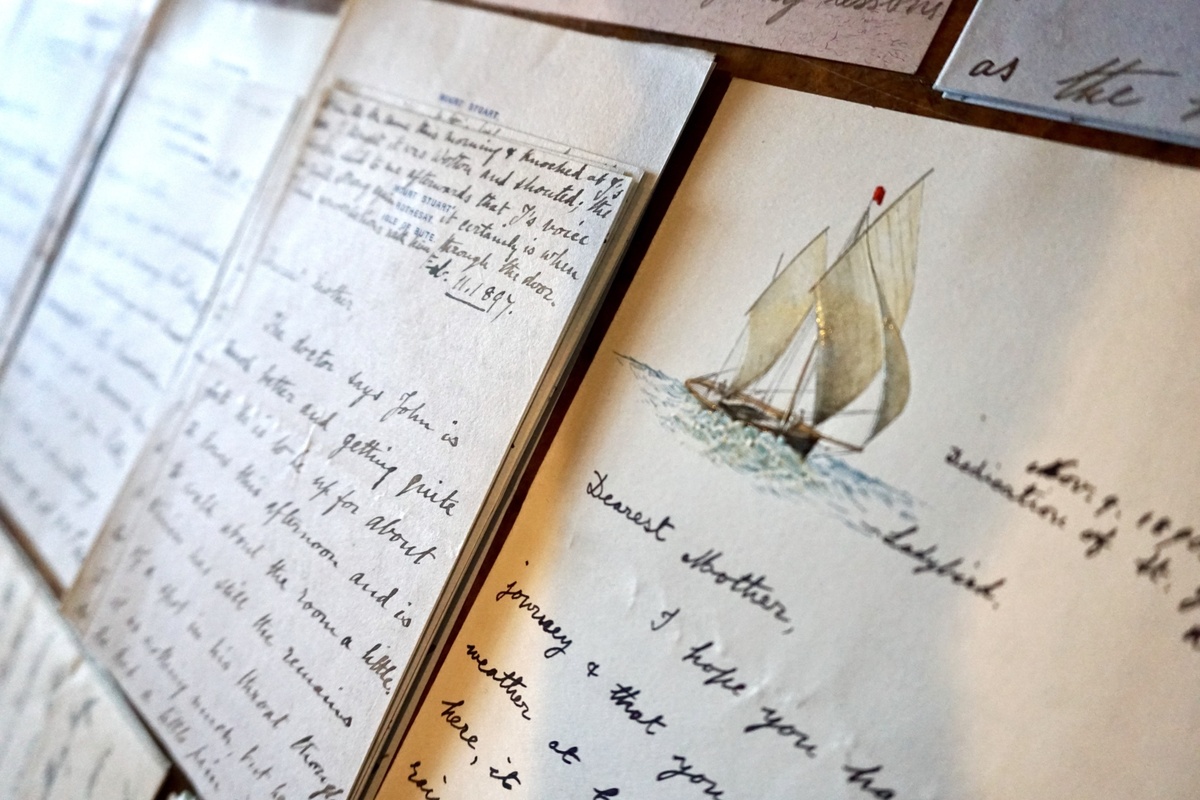 To celebrate Scottish Archives Day 2021, we are delighted to shine a light on the placement students who have worked with the Bute Archive at Mount Stuart to enrich their studies. Read on to find out more about the Bute Archive's collections, and what one of our wonderful placement students thought of their experience cataloguing a collection with us at the Mount Stuart Trust.
The Bute Archive at Mount Stuart is one of the most important privately owned archival collections in the UK, preserving records dating from 1158 to the present day. Some 3,500 boxes of archival material are held at Mount Stuart, and the material mainly consists of personal correspondence and estate records which have largely been retained by the Crichton-Stuart family since creation. The material in the Bute Archive range from individual collections formed by the Earls and Marquesses of Bute, to the Bute Estate and Dumfries Estate Papers - consisting of material such as historic rent rolls and tacks (leases) - to the Loudoun and Hastings Papers, formed by Francis Rawdon-Hastings, 1st Marquess of Hastings and Earl of Moira (1754-1826).
The Bute Archive also preserves spectacular designs in the H.W. Lonsdale Collection and the Edinburgh Tapestry Company Collection (a company known today as Dovecot Studios), as well as precious records documenting Mount Stuart in World War One in the Mount Stuart Naval Hospital Papers. A multitude of records relate to the most famous figures in history including King George III, Oliver Cromwell, King Charles I, Bonnie Prince Charlie, Lord Byron, Robert Burns, King Robert II, Sir Winston Churchill and even Lawrence of Arabia.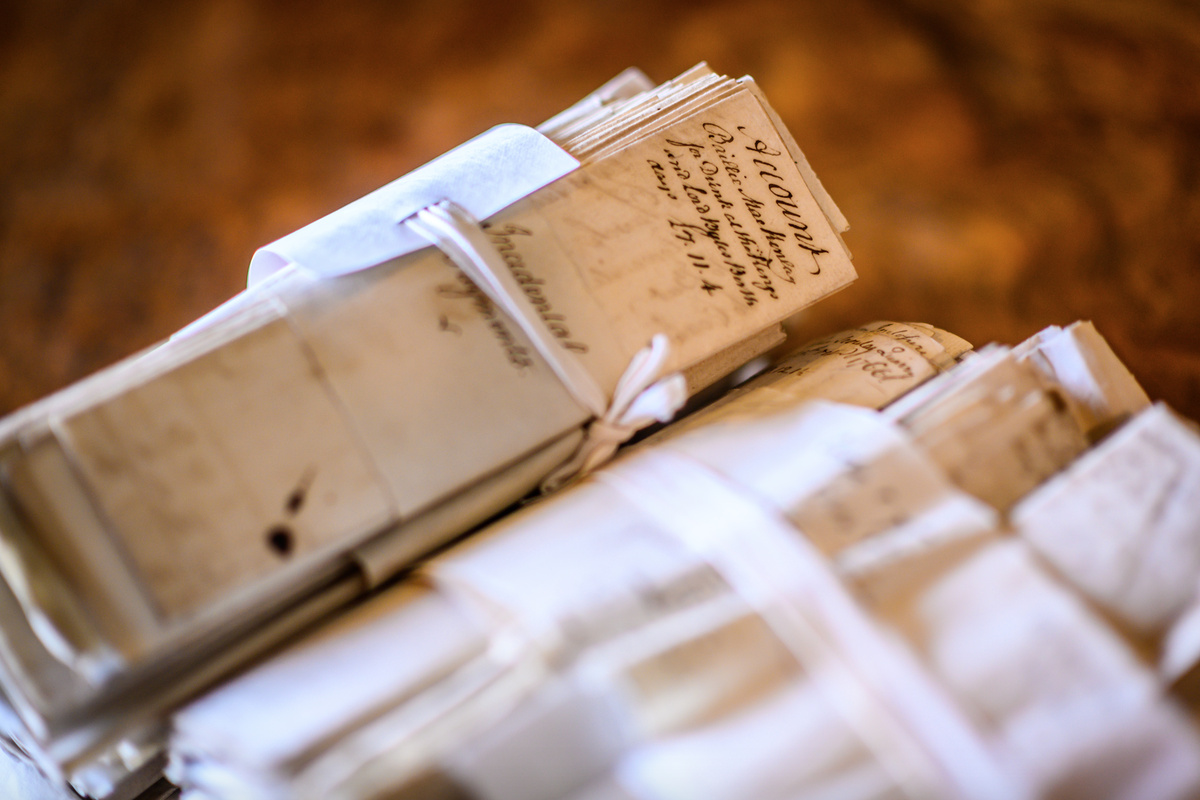 Over the course of the past thirteen years, the Bute Archive at Mount Stuart has had the pleasure of collaborating with a number of higher education institutions to host archival placements to support students in their undergraduate and postgraduate studies. These include our collaborative cataloguing placements for students studying towards their archive qualifications at the University of Glasgow and University of Aberystwyth, as well as opening up the abundant research opportunities that archives hold for researchers studying at the Centre for Scotland's Land Futures, an initiative run by three Scottish universities: the University of Stirling, University of Dundee, and the University of the Highlands and Islands. We are dedicated to providing students access to invaluable hands-on experience with the original archival material, and to support them in putting the archival theory and standards that they have been learning on their courses into practice.
Treasured Mementoes: The Papers of Lord Colum Crichton-Stuart
Our last placement students came to Mount Stuart in November 2019, and the Collections team were thrilled to welcome Matt Lindsay and Faith Glennon who were studying for their Master of Science degrees in Information Management & Preservation at the University of Glasgow. After two weeks of delving into the Bute Archive at Mount Stuart, here's how Matt found his placement experience with the Papers of Lord Colum Crichton-Stuart:
Early in November 2019 I followed the route taken by countless Glaswegians over the years and went 'doon the watter' to the Isle of Bute. Having boarded the train at Glasgow Central Station, my destination was Wemyss Bay, followed by a short ferry ride to Rothesay. Sadly, the Clyde steamers of yesteryear are now a distant memory with the honourable exception of the last seagoing passenger carrying paddle steamer, The Waverley. The purpose of my journey was not to take in the sights of the beautiful coastline but rather a placement in the Description, Cataloguing, and Navigation program within the postgraduate Information Management and Preservation course at the University of Glasgow.
My final destination was the astonishing Mount Stuart, a neo-Gothic country house and the ancestral home of the Marquesses of Bute, sited within its stunning gardens and grounds. Mount Stuart is the jewel in the crown of the many gems on offer to visitors of the stunning Isle of Bute. Within Mount Stuart sits the Bute Archive and the purpose of my journey. I was to spend the next two weeks cataloguing the papers of Lord Colum Edmund Crichton-Stuart (1886 – 1957), the youngest son of John Patrick Crichton-Stuart (1847-1900), 3rd Marquess of Bute who was creator of the Mount Stuart House that stands today. Lord Colum worked at the Foreign Office, travelling widely, and later served as Member of Parliament for the Northwich constituency in Cheshire from 1922 to 1945.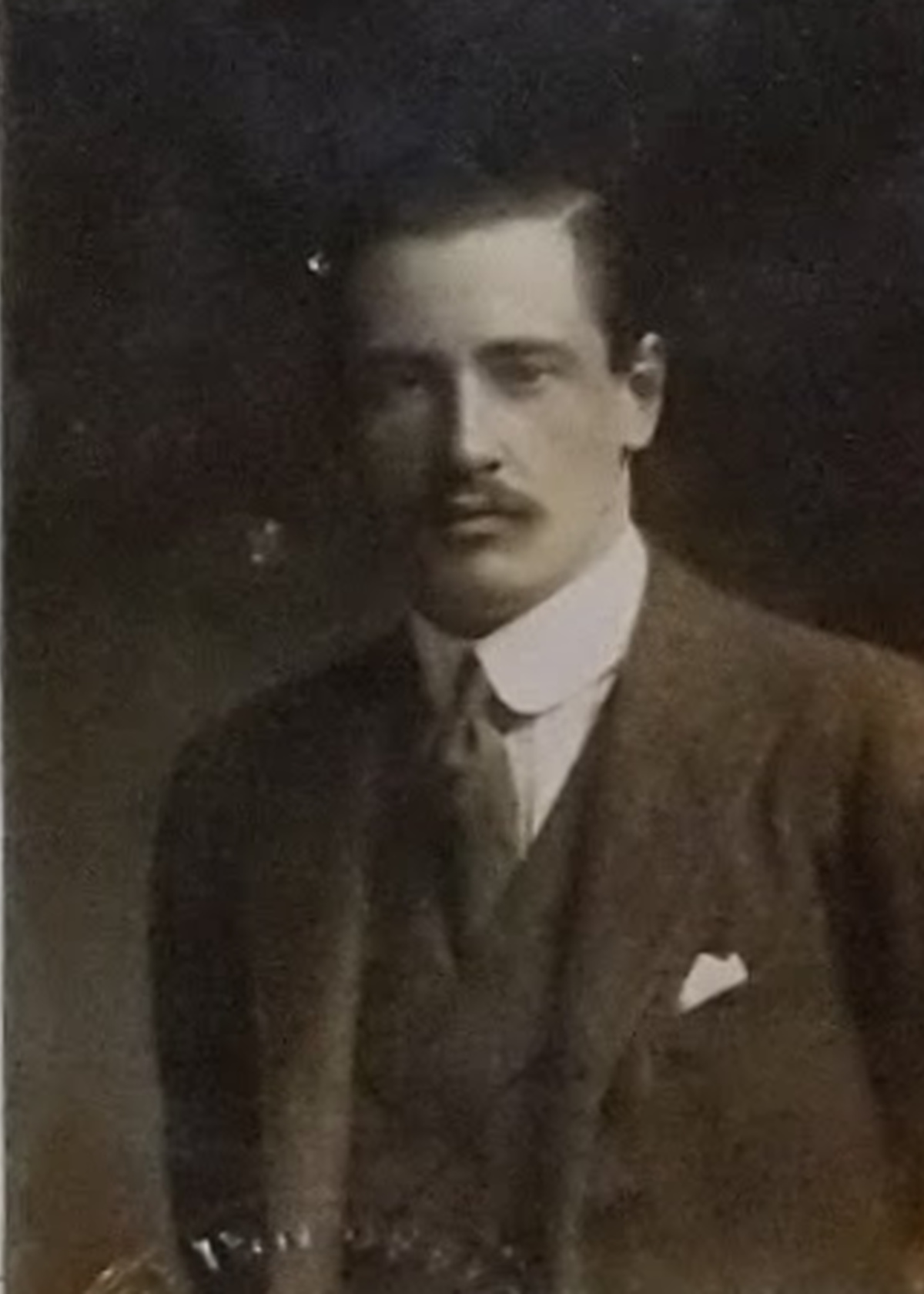 He held the office of Lord-Lieutenant of Bute from 1953 up to his death in 1957. I was presented with three archival boxes that encompassed the many facets of Lord Colum's life from school at Harrow to serving as third secretary in the Foreign Office to Lord Kitchener in Egypt. My task involved sorting, listing, and cataloguing the contents and I quickly ascertained that two weeks was not enough time. With the invaluable support of Lynsey Nairn and Elizabeth Ingham from Collections, it was decided that I focus on the unique private letters of Lord Colum.
What struck me most about these letters was the close familial ties and friendships he established and maintained throughout his life. The sheer volume of correspondence (by no means all) are akin to modern day text messages in their content and frequency. Spanning the late nineteenth century into the early twentieth century they provide an insight into local, national and international events. But it was four items, not letters, from the 1926 General Strike that fired my imagination. Within Lord Colum's papers is a red armband with the letters 'U. D.' in black upon it. Alongside this sat a map of London's underground railways, regulations of employment and a press clipping from South Wales Daily News.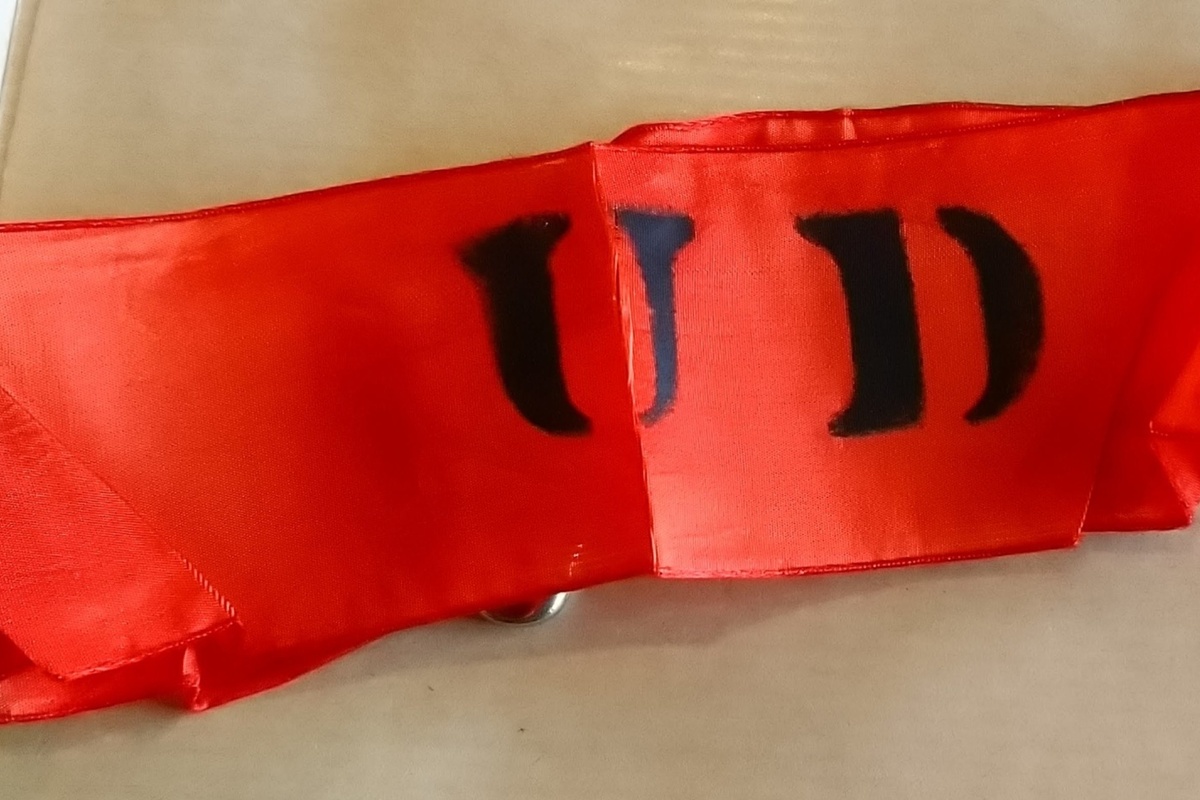 It transpires that Lord Colum worked as a porter to alleviate the strike action at Westminster Station and received 'tips' for his efforts. Obviously treasured items for Lord Colum to have kept as a memento, but he was not alone, as half a million members of the upper and middle classes volunteered to do the strikers work for nine days of the General Strike. As recently as December 2019 we find history repeating itself when Chris Loder MP for West Dorset, then a parliamentary candidate, worked as a train guard during strike action.
These emotive and recurring issues are what archives can bring to light with agency and relevance. The Bute Archive at Mount Stuart has recently embarked on cataloguing the remaining 50% of uncatalogued papers in its repository, which when done will undoubtedly reveal more fascinating and insightful material. I feel fortunate and proud to have contributed in a small way to that process. It has been invaluable to me in my studies and to reinforce my appreciation of the power of archives! I'd like to thank all at Mount Stuart Trust for their kindness and support, and urge others to go 'doon the watter' for an unforgettable experience.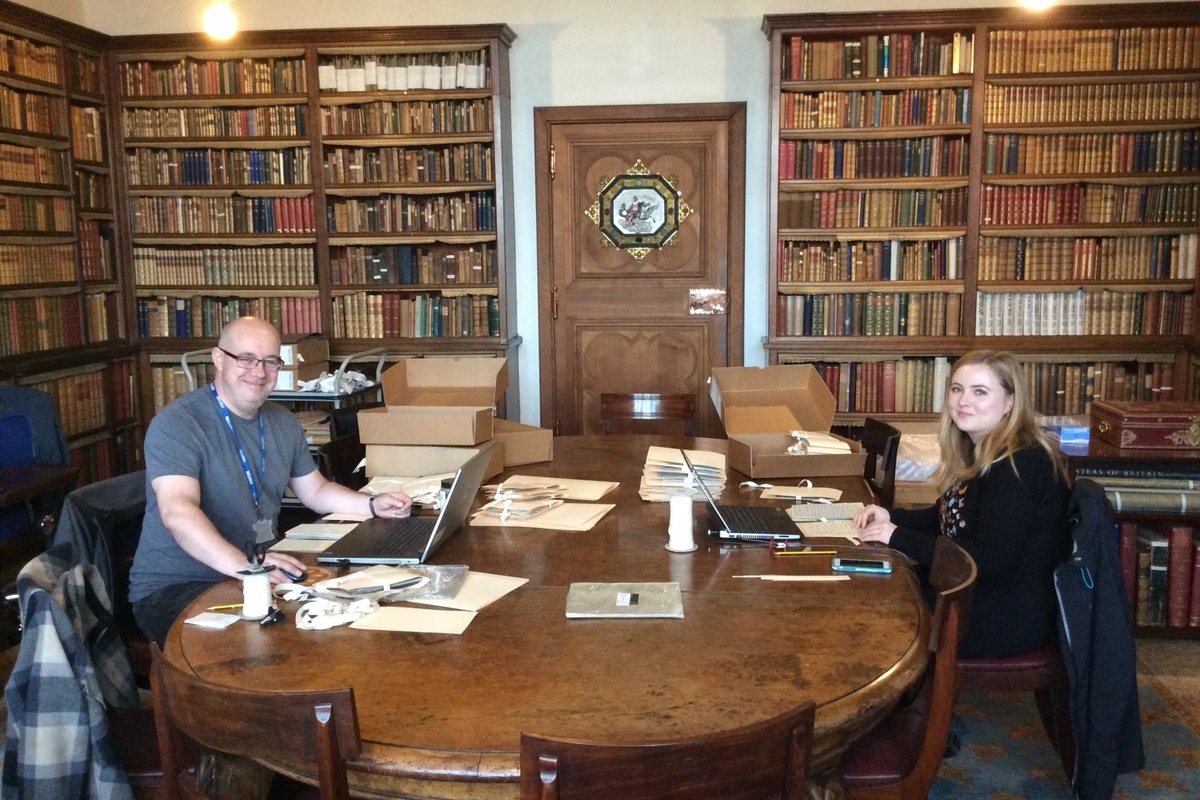 Matt and Faith cataloguing the collections of Lord Colum and Lady Margaret Crichton-Stuart in November 2019.
While we are currently closed to the public, we are looking forward to continuing to offer student placements with the fascinating collections in the Bute Archive at Mount Stuart when it is safe to do so. We wish you a happy Scottish Archives Day 2021!