Arrange Whatever Pieces Come Your Way: Gather and Arrange
Exhibition Press Previews 21- 27 August 2021
Exhibition Open from 6 September – 31 October 2021
Participatory Project continues until Spring 2022
Mount Stuart Trust is pleased to announce Gather And Arrange, a new collaboration with artists Arrange Whatever Pieces Come Your Way. This will include an exhibition of quilted works by the artists presented across the historic house, and a project working with island communities on Bute to weave their own stories into newly created quilted pieces, also to be displayed in the house. A third element of the project will see the artists making and constructing a large scale tablecloth to cover the dining room table in the Dining Room at Mount Stuart.
A partnership between Sheelagh Boyce and Annabelle Harty, Arrange Whatever Pieces Come Your Way focuses on a shared interest in architecture, art, food and fashion through the creation of handsewn, architectural quilts and reconstructed fabric works. These are put together from personal loved collections of clothing from friends and family, each provenance significant through the threads of history and emotional attachment. While taking inspiration from traditional American and Japanese quilt making techniques, the pair are not bound to these disciplines and delight in going against the grain.
For the exhibition, a series of Arrange Whatever Pieces Come Your Way quilts will be positioned throughout Mount Stuart, shown over selected pieces of furniture, and placed in the window alcoves along the sea-facing façade of the house where they can be caught by the pools of natural light. The architectural, often modernist roots of the quilts can be read in conjunction and in conversation with the Victorian and Arts and Crafts interiors of Mount Stuart. A triptych portrait of Annabelle's brother, Fergus Henderson, chef, and founder of the seminal St John restaurant will be hung in the dining room amongst the collection of Bute family portraits. A further textile work - a tablecloth – will be created by the artists for display, made entirely from waiters' jackets and aprons from St John Restaurant and Rochelle Canteen.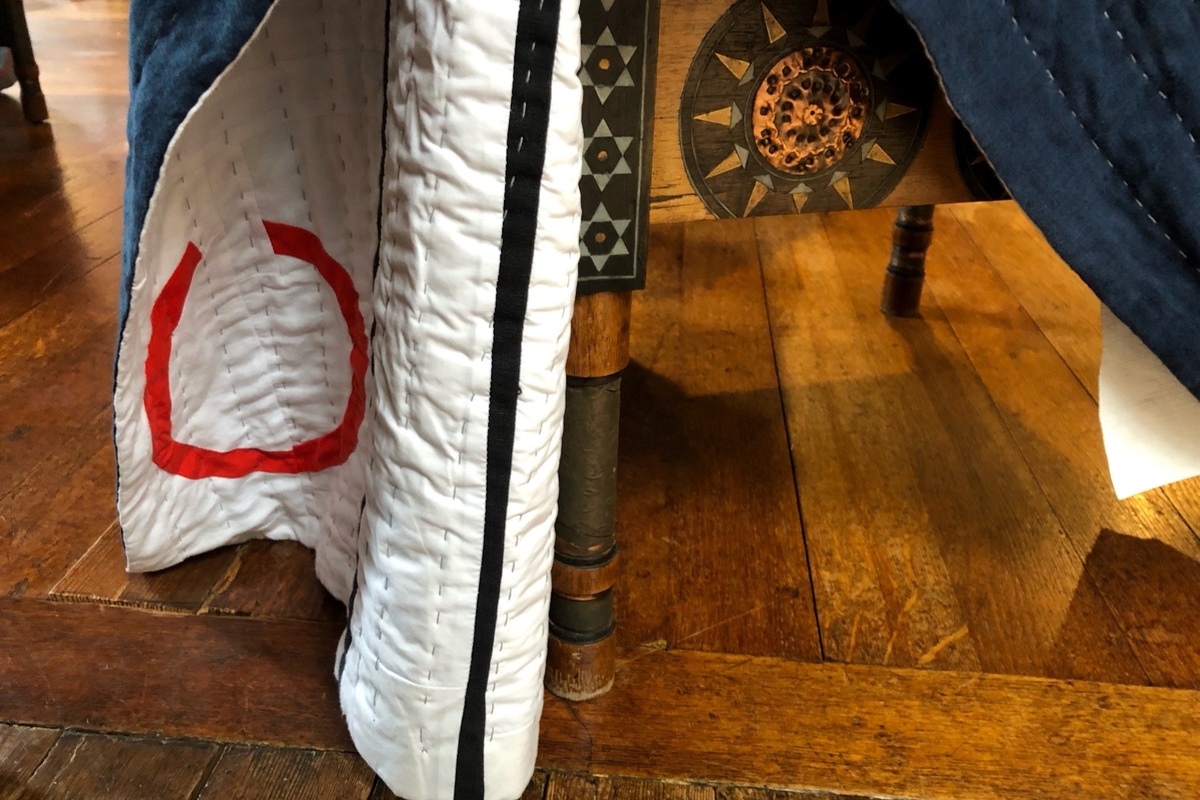 The project will also involve communities and individuals across Bute who will be invited to make their own quilts from their own old and cherished garments. Participating makers will gather used clothes, made special by the person that wore them, the occasion for which they were worn or the patina of wear. Boyce and Harty envisage the history and nature of quilt making as core to the sense of community-led work – the passing on of stories and ideas, both concealed and revealed, through quilts that, as crafted objects, transcend the boundaries of age and stereotype - and will share their skills with community members. Elements of memories, people, places and experiences will be encouraged into the quilts. Each new quilt will be worked on, in workshop format, across the winter months, in Mount Stuart's conservatory, an area filled with light and originally conceived to look at the stars. Makers will be encouraged to choose, as a starting point, a place, a landscape, a building – it could be the corner shop, an architectural detail, the telephone cables sitting within the landscape. These quilts will then be exhibited in 2022 at Mount Stuart. If you are interested in taking part in this project please contact morven@mountstuart.com to express your interest.
"Taking hundreds of hours to produce, each quilt is a unique object that tells its own layered story. It is the intimacy and connection of working closely and by hand with each quilt that forms the bond between the fragments of clothing, their memories, and their histories. A shirt worn and loved for different reasons, whether for celebration or utility, is taken apart. These pieces are then reconstructed by us to form a new story. These stories are brought to life by the movement of the hand stitching across the quilt – its repetition, its skill, its forgivingness, its fallibility." said Sheelagh Boyce and Annabelle Harty
A publication, to be announced, will be launched to coincide with the project.
This project has been supported by the Art Fund.
Art Fund is the national fundraising charity for art. It provides millions of pounds every year to help museums to acquire and share works of art across the UK, further the professional development of their curators, and inspire more people to visit and enjoy their public programmes. In response to Covid-19 Art Fund has made £3.6 million in urgent funding available to support museums through reopening and beyond, including Respond and Reimagine grants to help meet immediate need and reimagine future ways of working. Art Fund is independently funded, supported by the 131,000 members who buy the National Art Pass, who enjoy free entry to over 240 museums, galleries and historic places, 50% off major exhibitions, and receive Art Quarterly magazine. Art Fund also supports museums through its annual prize, Art Fund Museum of the Year. The shortlisted museums for Art Fund Museum of the Year 2021 are: Centre for Contemporary Art Derry~Londonderry; Experience Barnsley; Firstsite in Colchester; Thackray Museum of Medicine in Leeds; and Timespan in Helmsdale.