The Discoverie of Witchcraft by Reginald Scot (1584)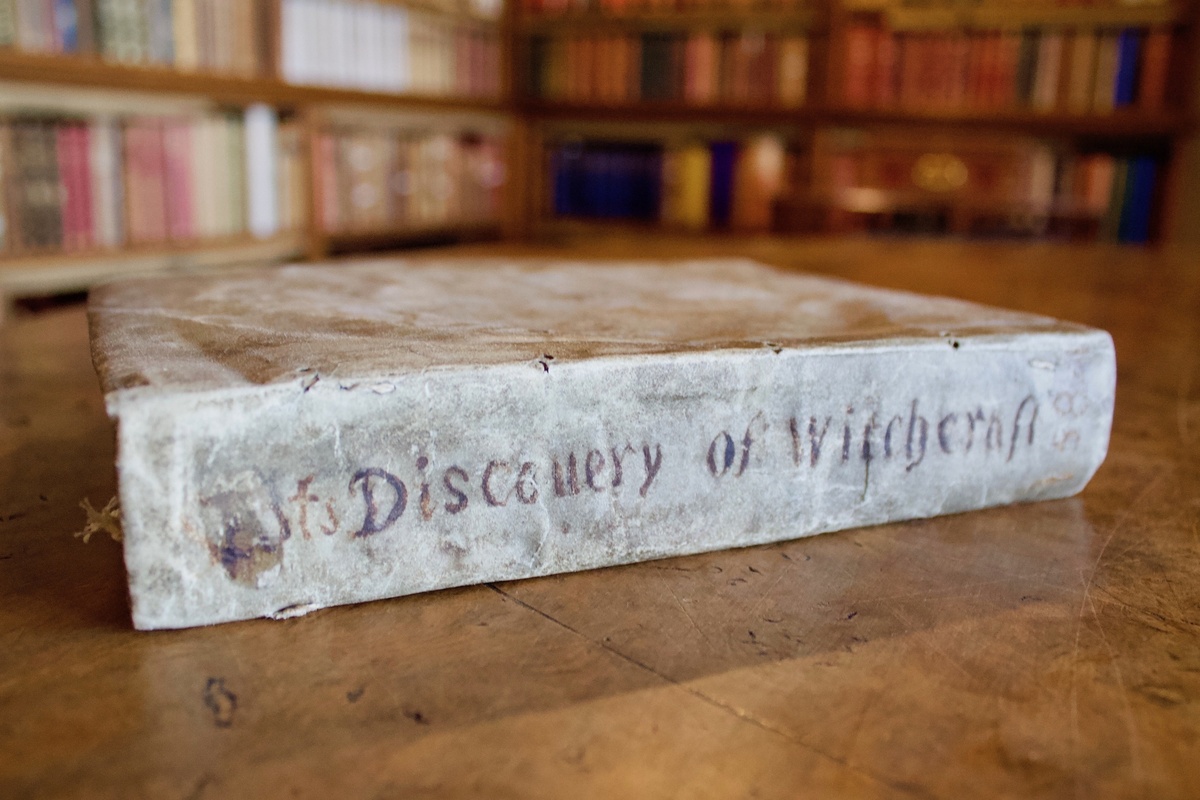 "Double, double toil and trouble; fire burn and caldron bubble…" – The Song of the Witches from William Shakespeare's Macbeth.
To celebrate Halloween, our October Object of the Month is a curious little book from the Bute Library at Mount Stuart called The Discoverie of Witchcraft by Reginald Scot (1538-1599). First printed in 1584, Scot's The Discoverie of Witchcraft was the first treatise on witchcraft written by an English author. Scot was born into a prominent Kent family in 1538, and it was the 1582 executions of several witches in nearby St. Osyth which inspired the Member of Parliament to write his infamous treatise. Scot's Discoverie was written in response to the bloody witchcraft trials which plagued Scotland and England throughout the early modern period, after the 1542 Witchcraft Act regulated the penalties for witchcraft. This culminated with the Great Scottish Witch Hunt of 1661-2, a series of trials and burnings which spread from London all the way to Rothesay on the Isle of Bute.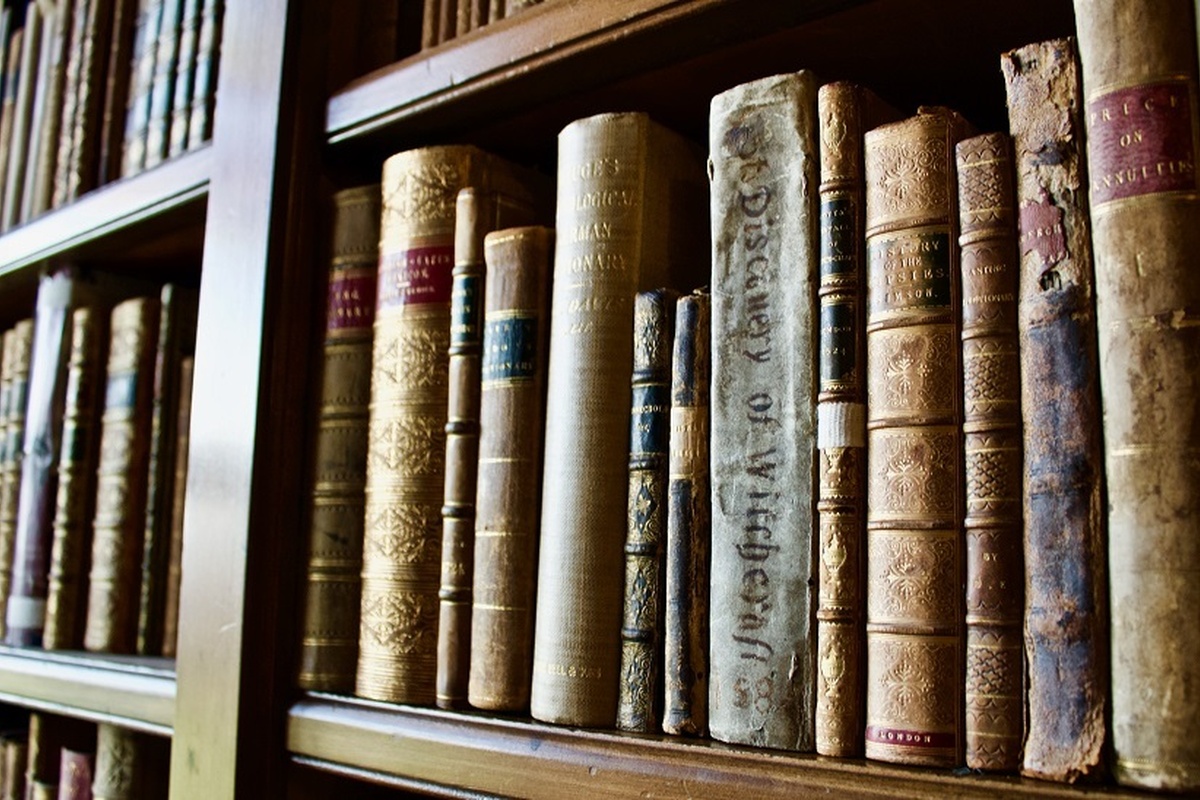 Scot believed that the pursuit and burning of witches was unfair and groundless, and his Discoverie was published by Henry Denham for William Brome in London as an exposé on witchcraft. To discredit magical beliefs, Scot describes a selection of conjuring tricks in enough detail to have been made use of by aspiring magicians as grimoire: a book of spells. Whether deliberately or not, Scot's work was the first book in English to explain how conjuring tricks worked and he helped popularize magic for the early modern masses. Early modern playwrights such as Thomas Middleton and Ben Jonson used Scot's Discoverie as a source of dramatic inspiration, and it is said that Scot's work also inspired the witches in Shakespeare's Macbeth.
Despite Scot's work gaining popularity when it was first published, the Discoverie was condemned by many influential figures, one being none other than King James VI of Scotland. In his 1597 publication Daemonologie, James attacked "Scot, an Englishman, who is not ashamed in publike print to denie that there can be such a thing as witchcraft". Legend has it that on his ascension to the throne as King James I of England in 1603, James ordered for every copy of Scot's work to be burnt and destroyed. While there is no surviving contemporary evidence for this, we do know that the Discoverie was continuously denounced by fellow authors on witchcraft throughout King James VI & I's reign.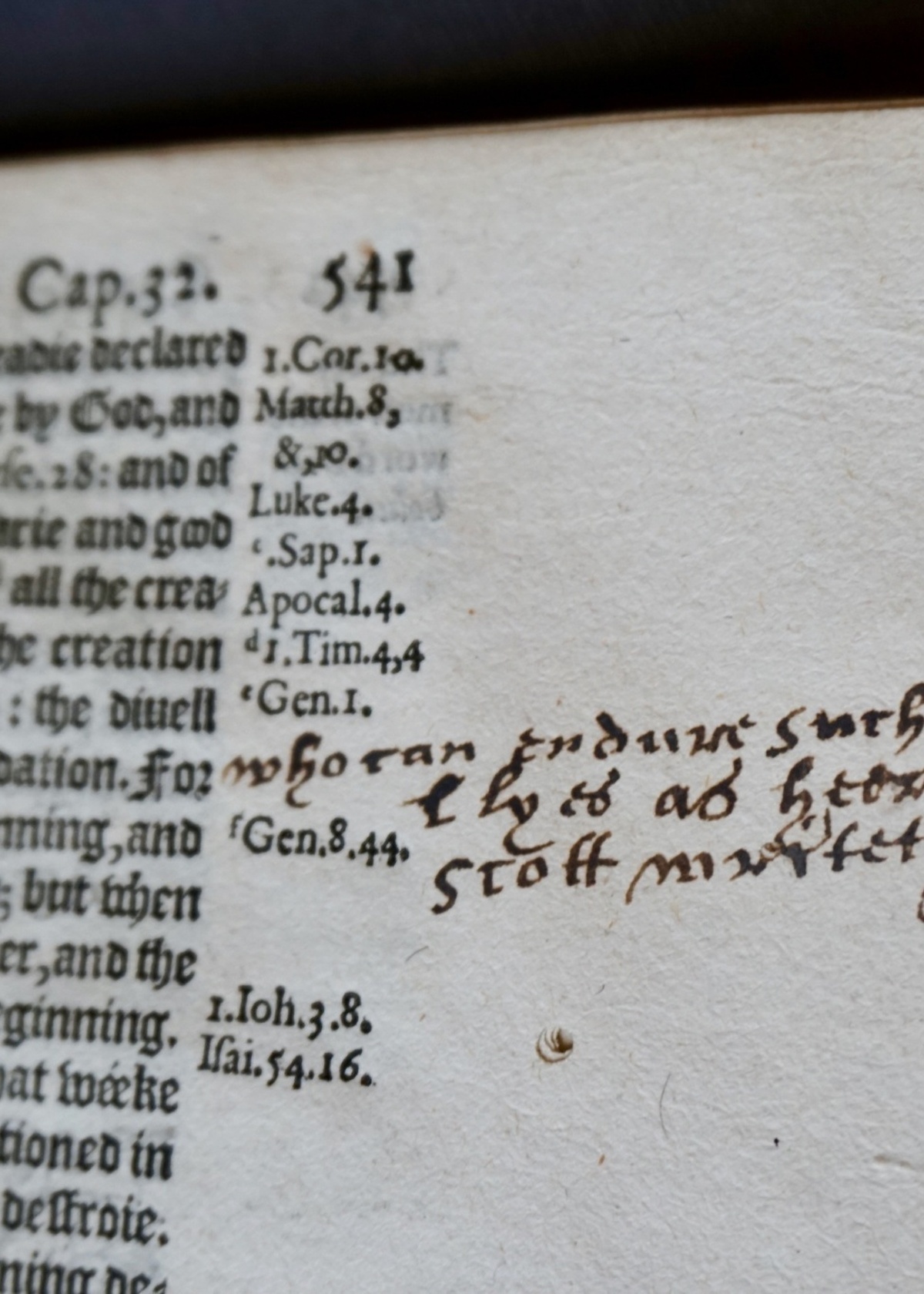 Today, the quarto first editions of the Discoverie are not rare. Although what is interesting about the Bute Library copy is the contemporary binding and the curious marginal annotations which run throughout skeptical Scot's work. The Bute Library copy of Scot's Discoverie is in a contemporary limp vellum binding with 'yapp' edges curled around the corners of its pages to protect the text held within. This copy also has some marvelous marginalia by a contemporary reader who, it seems, thought Scot was a bit of a "sott". Clearly not everyone was convinced by Scot's argument; admittedly this reader's comment might have something more to do with the fact that Scot published the first practical treatise on hop cultivation in 1574.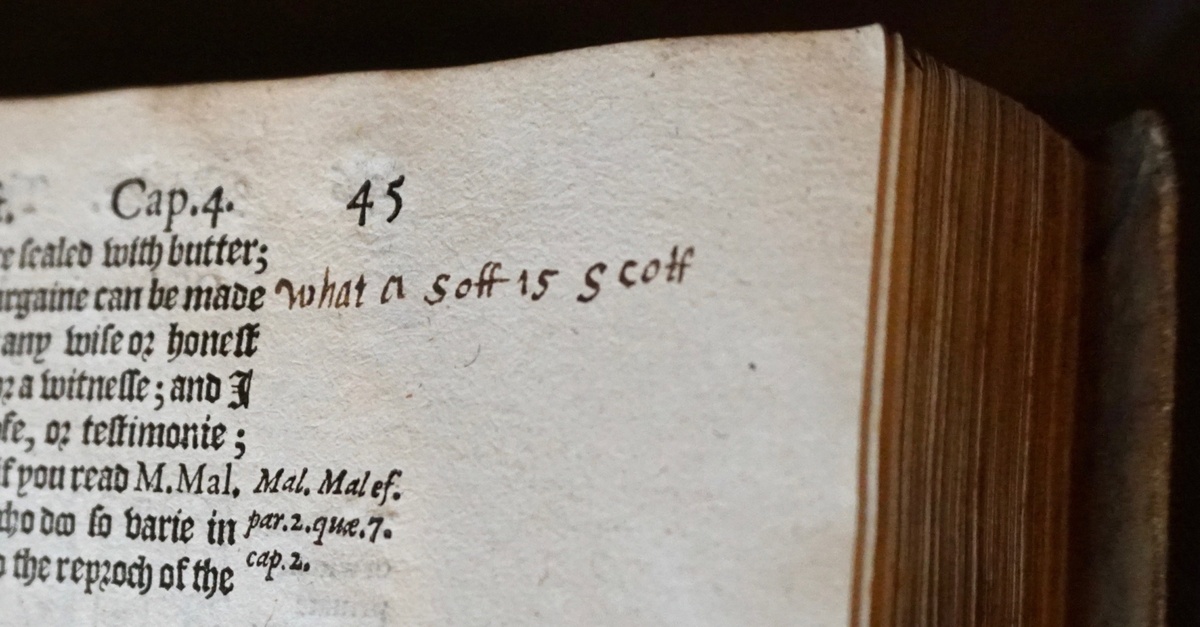 This particular copy was acquired in 1932 by John Crichton-Stuart, 4th Marquess of Bute (1881-1947), and it was number 83 in a Maggs Bros. sale entitled 'Curiouser and Curiouser: A Catalogue of Strange Books and Curious Titles'. The 4th Marquess of Bute is well-known for his numerous building restoration projects, but he was also an avid bibliophile with an interest in early modern history. The Discoverie of Witchcraft is just one of 25,000 volumes and pamphlets held by the Bute Library at Mount Stuart, which dates from 1477 to the present day.
Object of the Month: October 2019